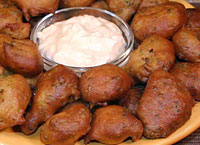 Yield:
6-8 side dish servings or 8-12 appetizer servings.
Cook Time:
About 3 minutes
Tips:
For more lemon flavor in sauce, add maximum amount of freshly squeezed lemon juice as suggested in recipe.
Suggestion:
Serve as a side dish or as an appetizer (see serving suggestion in photo below)
Broccoli Puffs
In a small saucepan, bring water and butter to a boil. Reduce heat to low-medium and add flour all at once. Stir until mixture leaves sides of pan and forms a ball. Remove from heat. Add eggs, one at a time, beating well with an handheld electric mixer in the saucepan after you add each egg. . (Note: you can use an electric mixer for this process, though using a handheld mixer is much easier and is recommended.) Add salt and hot red pepper sauce, then stir in broccoli florets.
Heat about 1 inch of oil in a small or medium sauce pan over high heat. When oil is hot, drop broccoli batter by tablespoons into oil (use 2 serving spoons - one to scoop the batter, and one to scrape the batter off into the oil) and cook until puffs turn light golden brown (turn puffs over after first sides turn golden, then brown 2nd sides). Place on a plate covered with a few paper towels to drain. Serve with Dipping Sauce.
Dipping Sauce
In a small mixing bowl, mix together all ingredients and chill until ready to serve broccoli puffs.