Crispy Sweet and Spicy Shrimp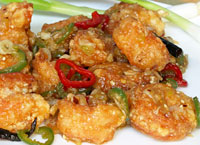 Tips:
For a spicier dish, leave seeds in hot peppers. For a milder dish, remove the seeds.
Suggestion:
Also delicious served as a main course, alone or over rice.
Ingredients
20 large shrimp
1 egg white
1 cup cornstarch
1/4 teaspoon baking powder



Sauce

5 cloves garlic, sliced
3 dried cayenne peppers, cut in half
1 tablespoon olive oil
1 teaspoon soy sauce
2 teaspoons rice vinegar
2 teaspoons granulated sugar
1/2 cup water
1/4 teaspoon salt
1 tablespoon cornstarch
1/2 teaspoon hot chili oil
1/2 green hot pepper, thinly sliced into rounds (seeds removed for milder spiciness)
1/2 red hot pepper, thinly sliced into rounds (seeds removed for milder spiciness)
2 scallions, roots trimmed and chopped into rounds
Directions
In a medium mixing bowl, combine shrimp and egg white and mix together. In a small mixing bowl, whisk together cornstarch and baking powder, then sprinkle over shrimp, tossing shrimp as you sprinkle. Mix until shrimp is evenly coated. Using a deep fryer, wok, saucepan or deep skillet, deep-fry the shrimp at 350° F. until cooked and crispy and pink in color (about 2-3 minutes). Transfer cooked shrimp to some stacked paper towels on a plate to drain.

Have all ingredients for sauce cut and measured and place near cooking area.

If you used a wok or skillet to fry shrimp: Remove all but 1 tablespoon of oil and add dried cayenne peppers. If you used a deep fryer to fry shrimp: Heat a wok or skillet over high heat until a drop of water dropped into wok (or skillet) evaporates within a few seconds, then add olive oil and dried cayenne peppers. Stir-fry for about 10 seconds (dried peppers will turn dark), then add garlic, soy sauce, rice vinegar, sugar, water salt, and scallions and mix. Add cornstarch and quickly mix in. Add hot pepper oil, fried shrimp, and sliced hot peppers, and mix just enough to coat the shrimp. Immediately transfer to a serving plate. Serve alone or with rice.