Bread and Pastry Appetizers
Sometimes the line drawn between breads and pastries can appear to be such a fine one, that it's difficult to decipher between the two. For that reason, you'll find both bread and pastry appetizers included on this page. If you're looking for appetizers that feature small slices of bread with assorted toppings, please visit
Crostini Appetizers
.
Generally, in terms of levening agents, breads are made using yeast or baking soda, while pastries are made using baking powder. Pastries tend to have a higher fat content, which gives them a more flaky and crumbly texture than bread.
Bread appetizers come in all sorts of shapes and sizes, can entertain an endless variety of flavors, and are always big crowd pleasers. Some examples of bread appetizer recipes
are crostini (mini slices of soft or crispy bread used for dipping and/or topping), puffs (soft and puffy bite-size appetizers, such as crab puffs, broccoli puffs and cheese puffs) breadsticks, pinwheels, calzones (pastries containing any variety of ingredients sometimes served with dipping sauces), croissants, turnovers, and cracker-style snacks that can be served as is or with dips (such as pita chips, baked crostini and flaky cheese triangles). Homemade Bread Appetizer recipes are almost always very easy to make, produce plenty, are much more economical than prepared bread appetizers in stores, and will allow you to tap into your creative side!
Pastry appetizers are traditionally made with a combination of flour, sugar, milk, butter, shortening, baking powder, and/or eggs, and have a fluffy and light (and sometimes crumbly) texture that make them incredibly versatile and delightfully delicious! They can be served in simple fashion, such as little breads like
croissants
, or puff pastries such as
Crab Puffs
or
Broccoli Puffs
. It definitely doesn't stop there, though. Pastry appetizers can be made with ingredients mixed into the dough, such as any variety of cheese, spices and herbs, or can be wrapped around meat or a mixture of ingredients, such as
Mini Calzones
and
Cheese and Sausage Croissant Bites
.
Whether you choose a bread or pastry appetizer recipe, one thing for certain - the ways in which both can be prepared is limitless, and they will always be a hit at gatherings!
Bread and Pastry Appetizer Recipes ▼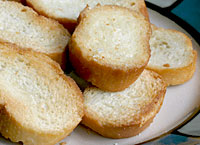 Baked Crostini
(also sometimes referred to as Bruschetta or Canapé when topped with savory foods) are miniature slices of toasted (or baked) bread, typically made from baguettes (long, thin loaves of French or Italian bread). Served as an appetizer, they can be used as a base for an endless variety of food toppings or as a cracker-style snack for dips.
Crostini
are wonderful for social events, holidays, parties or anytime snacking.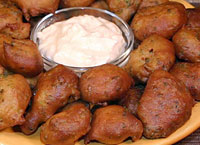 This
Broccoli Puff recipe
features puffy random-shaped hand-size morsels made with a quick and easy dough filled with finely chopped broccoli florets and a hint of hot pepper sauce. These
broccoli appetizers
are deep-fried, giving them a light and crispy outer shell and a light and fluffy interior. Broccoli Puffs are served warm with a mildly creamy, tangy dipping sauce that gets its zing from lemon juice, horseradish and hot pepper sauce.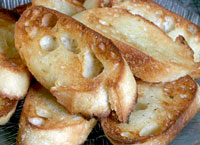 Broiled Crostini
(small toasted slices of bread used for topping with various ingredients to be served as appetizers) produces a different result than
Baked Crostini
, though both can be used for the same purpose. With Broiled Crostini, the slices of bread are cooked more quickly under direct heat, and the crunchiness tends to be contained more on the surface of the bread, while the chewiness is still retained on the inside.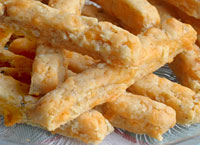 This
Cheddar Cheese Sticks recipe
couldn't be easier to make, and is great for serving at parties or events or as afternoon snacks! These homemade cheese sticks are made with a simple combination of flour, cheese, fresh bread crumbs, milk and a pinch of cayenne pepper. Simply combine, roll-out, cut into small sticks and bake! You can serve these cheese sticks alone or with a kid-friendly dipping sauce, such as
Zesty Ranch
.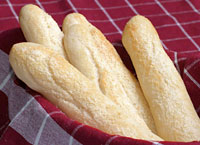 These delicious
Cheese and Garlic Breadsticks
have a very light and fluffy texture and are coated with melted butter, garlic salt and grated Parmesan cheese. They are fabulous on their own, warm, right out of the oven, or served with warm Marinara Sauce for dipping. This recipe is very easy and produces a large batch of breadsticks.
Cheese and Garlic Breadsticks
are great served as appetizers or as a bread side to main courses.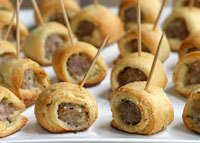 Cheese and Sausage Croissant Bites
are a quick and easy appetizer that require few ingredients. All you need to make these tasty bite-size
sausage appetizers
is a package of crescent roll dough, brown and serve sausage links, some Parmesan cheese, melted butter and dried oregano. That's it! Preparation couldn't be easier, either. No need to cook the sausage before baking. Just roll, bake and serve!