Sandwich Appetizers
When it comes to party planning or any type of event planning, for those events where you'd rather prepare the food yourself rather than hire a catering company, the opportunities are endless! Coming up with fun and/or healthy snack ideas and easy finger foods is always a plus, and adds an element of fun to your event. Sandwich appetizers (also sometimes referred to as finger sandwiches. tea sandwiches, mini sandwiches, party sandwiches or even finger food) are always a big hit, and can be prepared in endless ways using almost any ingredient you can imagine. Tortilla roll ups (also sometimes referred to as wrappers) are always popular, and amazingly easy to assemble, such as
California Wraps
. Tortilla roll ups traditionally consist of large flour
tortillas topped with any number of ingredients and some sort of spread that adds flavor and helps hold the ingredients in place. Once rolled up, the tortillas are sliced into small individual servings, creating an attractive spiral design that has great eye appeal and exposes the ingredients inside. Sliders have also become increasingly popular. Though sliders initially began as mini hamburgers made by placing a small hamburger patty into a sliced dinner roll, sliders now can be filled with any type of meat or fish or any combination of ingredients, such as
Tilapia Sliders
and
Cherry Meatball Sliders
. Another quick and easy party food that falls into the sandwich appetizer category is the open faced sandwich, also referred to crostini or bruschetta when prepared on small slices of baguette style bread loaves. To create these attractive and elegant mini sandwiches, simply top slices of the baguette (toasted using the
broiling
or
baking
method, or untoasted) with any preferred topping, such as
Hummus Chicken Salad
. (To see a variety of crostini recipes, you might want to check out the
Crostini
page.) Actually, when it comes to party planning or any other type of event planning, most any kind of sandwich you enjoy can be prepared, then simply cut into quarters, creating small finger food appetizers, which especially comes in handy as
tailgate food
and for serving at
kids' parties
!
Recipes ▼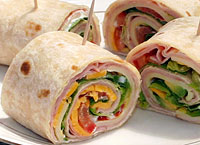 California Wraps
begin with a large flour tortilla coated with a delightful sour cream spread flavored with hints of dill and freshly squeezed lemon. Slices of turkey and ham, provolone and cheddar cheeses, ripe avocado, tomato and lettuce are then layered on top, and the tortilla is rolled up and sliced into individual servings, exposing the colorful swirl of ingredients inside. Can be served for lunch or as sandwich appetizers.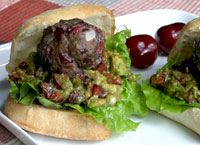 Cherry Meatball Sliders
have a delightfully fresh flavor, thanks to some finely chopped fresh sweet cherries. A little Dijon is added to the meatball mixture to counter the mild sweetness of the cherries, but the touch of natural sweetness is what makes these meatball sliders so fabulous! A delicious Cherry and Avocado Salsa is placed under the meatballs on top of small lettuce leaves, giving these mini sandwiches the perfect touch!
Sliders are always the perfect party food! These
Ham and Cheese Honey Mustard Sliders
and fun and simple yet quite elegant, and are extremely easy to whip up. These attractive and tasty little sandwiches feature flaky biscuits lightly spread with a butter and green onion mixture. The biscuits are,then filled with deli-sliced ham and swiss cheese, and are topped with a very tasty honey mustard sauce made with stone-ground mustard.
Hummus Chicken Salad
is wonderful on
crispy Baked Crostini
or soft mini slices of bread, and a wonderful twist to the traditional chicken salad. This
chicken salad recipe
is made with hummus rather than mayonnaise, giving it light and refreshing taste as well as healthful benefits. Diced celery, green onions and red bell pepper are also added into the mix, providing a fresh and tasty crunch!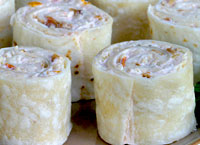 These
Southwest Chicken and Bacon Wraps
(also called roll ups) are super easy to make and have a fun and festive flavor that pleases all ages! Making these chicken and bacon wraps is a simple matter of mixing the ingredients (cream cheese, salsa, bacon and canned chicken breast) in a bowl, then spreading it onto some flour tortillas. Roll them up, stick them in the fridge until you're ready to serve them, then slice and serve!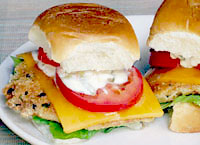 If you're looking for a new and fun, quick and easy way to serve fish that everyone in the family will love, these
Tilapia Sliders
are the perfect answer! These mini sandwiches feature tasty little coated and fried Tilapia filets sandwiched between two soft Hawaiian style buns, together with slices of cheddar cheese, romaine lettuce leaves, tomato slices and a sweet and tangy homemade tartar sauce.
◄Previous Page
1
Next Page►