Vegetable Appetizers
Vegetable appetizers are colorful and full of flavor, and are great for providing snacks and finger foods that will entertain guests without ruining their appetite if you've got a meal planned for later. Needless to say, vegetable snacks also come with the
bonus of vitamins and minerals. Vegetable appetizers can be as simple as a tray of fresh veggies with one or more dips. Vegetable appetizers can come in the form of salsa, such as
Black Bean and Corn Salsa
, or be incorporated into a pastry appetizer, such as with
Broccoli Puffs
or
Parmesan Broccoli Balls
. Potatoes are incredibly versatile, and can take many forms when it comes to appetizers. For example,
Red Potato Salad Cups
are adorable appetizers, featuring small, hallowed-out red new potatoes filled with a diced red-potato salad with wonderful and unique flavor. Olives are very festive with vibrant tangy flavor, and can also be prepared in a variety of ways, such as with
Olive Cheese Balls
and
Olive Tapenade
, which is a dip made with two types of olives, capers and seasonings. This page is in its beginning stages, so as my quest continues, please check back again for newly added vegetable appetizer recipes!
Vegetable Appetizer Recipes ▼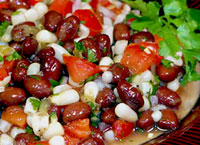 Black Bean and Corn Salsa
is a vibrant and healthy salsa recipe that tastes delicious with
tortilla chips
,
crostini
or other crunchy dipping snacks. While most salsa recipes contain tomatoes and/or tomato sauce, onion and cilantro, this festive
salsa recipe
combines black beans, kernel corn, tomatoes, red bell pepper, diced green chiles and fresh chopped cilantro, giving it unique and delightful flavor and texture, not to mention vibrant color!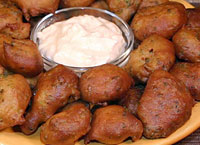 This
Broccoli Puff recipe
features puffy random-shaped hand-size morsels made with a quick and easy dough filled with finely chopped broccoli florets and a hint of hot pepper sauce. These
broccoli appetizers
are deep-fried, giving them a light and crispy outer shell and a light and fluffy interior. Broccoli Puffs are served warm with a mildly creamy, tangy dipping sauce that gets its zing from lemon juice, horseradish and hot pepper sauce.
Broccoli with Hollandaise Sauce
can be served as a side dish or as an elegant appetizer for parties and events, and is a delicious way to add flavor and texture to this popular vegetable. The easy Hollandaise Sauce recipe is made with lightly seasoned egg yolks and butter briefly cooked together over low heat, and is flavored with a hint of lemon, giving the perfect complimentary flavor to crisp-tender broccoli florets.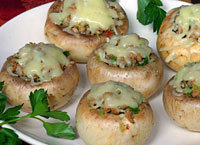 This
Cheese and Sausage Stuffed Mushroom recipe
is very easy to prepare, and produces bite-size mushroom appetizers with colorful eye appeal and full festive flavor! These tasty stuffed mushrooms are filled with a sautéed mixture of crumbled hot Italian sausage (sweet Italian sausage can be used instead, if preferred), minced garlic, diced green onions and diced mushroom stems, and some dried Italian herbs and other seasonings.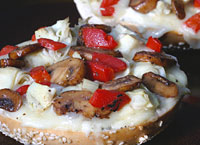 These
Cheese and Vegetable Pizza Bagels
begin with your choice of bagels. A tasty cream cheese spread seasoned with fresh minced garlic and herbs is spread on the bagel slices. Shredded mozzarella cheese. along with sliced mushrooms that have been sautéed in seasoned butter and balsamic vinegar, bite-size pieces of artichoke hearts and roasted red bell peppers are arranged on top, and the pizza bagels are briefly baked.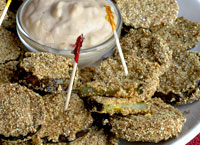 If you're looking for easy appetizers for parties or simply a fun snack for all ages, this fried pickle recipe is right up your alley!
Fried Pickles with Tangy Asian Dipping Sauce
feature bread and butter pickle chips (or dill pickle chips if you're a dill pickle fan) coated in a seasoned cornmeal mixture, then fried until golden and crispy. A tangy and mildly spicy dipping sauce featuring a few Asian flavors is served on the side, making this fun snack complete!