Caramel Corn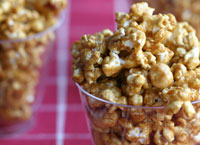 Yield:
14 cups (3.5 quarts)
Tips:
Serve warm (only slightly cooled after removing from oven) or cooled. Peanuts (or cashews) are optional, though highly recommended! Store in air-tight container.
Suggestion:
Great for parties, events, snacking or dessert.
Ingredients
3.5 quarts (14 cups) popped popcorn
1 cup peanuts or cashews (optional, but delicious!)
1/2 cup butter
1 cup brown sugar, packed
1/4 cup light corn syrup
1/2 teaspoon salt
1/2 teaspoon vanilla extract
1/2 teaspoon baking soda
Directions
Preheat oven to 250° F.

Place popped popcorn in a very large mixing bowl. Have peanuts (or cashews) ready in a bowl or measuring cup near popcorn. Set aside.


Line a baking sheet with heavy duty aluminum foil (for baking). Line another baking sheet with wax paper (for cooling). Set both baking sheets aside.

In a medium saucepan, combine butter, brown sugar, corn syrup and salt. Heat over medium heat until boiling, then continue to heat for 5 minutes while stirring slowly and constantly. Remove from heat and add vanilla and baking soda, stirring until completely blended (mixture will bubble when you add soda).

Immediately pour caramel mixture over popcorn, scooping out every last bit from saucepan (you will need to work quickly, because caramel mixture tends to harden as it cools). Immediately after pouring caramel over popcorn (and before you do any stirring), sprinkle peanuts (or cashews) evenly over top of caramel. Stir with a wooden spoon until thoroughly mixed (some parts of popcorn will not get covered - this is normal).

Pour caramel-covered popcorn and peanuts into baking sheet lined with aluminum foil. Spread around with wooden spoon until evenly fit into baking sheet. Bake for 30 minutes, removing baking sheet halfway through cooking time (after 15 minutes of baking) to gently toss popcorn, then reinsert into oven to finish last 15 minutes of baking. (Note: For a crispier caramel corn, bake for 1 full hour, tossing caramel corn every 15 minutes until done.)

After baking, remove popcorn and scoop with a spatula or pour onto baking sheet lined with wax paper. Spread out and allow to cool. Alternatively, you can serve warm (delicious!). Store in air-tight container.