Bacon Wrapped Crackers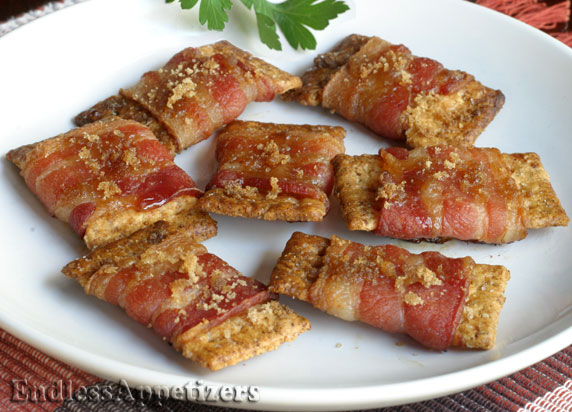 Yield:
As many as desired
Tips:
Any type of light and crumbly wafer type crackers can be used, though rectangle crackers and oval crackers are recommended because they're easier to wrap with bacon,
Suggestion:
Perfect for parties, holidays or any social gathering, or as a snack anytime!
Bacon wrapped appetizers come in all shapes and sizes, and if you're a bacon lover, they're all irresistable, because bacon tastes great with virtually everything! If you're looking for bacon appetizers or recipes for easy party appetizers, these Bacon Wrapped Crackers are a fabulous idea!
Making these Bacon Wrapped Crackers is incredibly easy, and you can make as little or as many as you like, depending on the amount of guests you'll be serving. This easy appetizer recipe is also very flexible, in that you can also use whatever type of wafer cracker you prefer. For example, Keebler makes a variety of wafer crackers; such as Club Crackers and Town House Crackers, both of which come in a variety of flavors, including healthy whole grain style crackers. The Town House Crackers also come in rectangle and oval shapes which will both work nicely with this recipe. Nabisco carries a wafer cracker called Waverly Crackers that also have that rectangle shape that's perfect for wrapping with bacon. No doubt there are
plenty of other crackers out there that will work great with this recipe as well, so feel free to select crackers that appeal to you most.
This Bacon Wrapped Crackers recipe has even more flexibility, in that it can be tweaked by adding a little sweetness, depending on your own personal preference. If you prefer to make this cracker appetizer recipe without any sweetness, simply follow the first basic recipe. On the other hand, if you'd like to add a touch of sweetness (after all, who doesn't love the flavors of salty and sweet combined?), then simply follow the alternate recipes that include a dab of honey or a sprinkle of brown sugar. You can't go wrong with any of these versions - in fact, you might want to make all three versions to add a little variety to your appetizer presentation!
A few tips: Before you bake an entire batch of these bacon appetizers, you might want to bake one of each version. Doing a test run will show you a few things: 1) How the bacon shrinks while cooking (this will give you a good idea as to how loosely the bacon should be wrapped around each cracker; 2) It will help you decide whether you want to cut your bacon strips in half (for a more generous amount of bacon) or cut into thirds (for a more modest amount of bacon); and 3) It will help you know just how much honey or brown sugar you'd like to add to achieve the flavor balance that appeals to you. Typically, a very small amount of honey and/or brown sugar is enough to give these bacon appetizers the perfect balance of salty and sweet. Lastly, don't be surprised if quite a few disappear before they even make it to the serving tray! Once you pop one of these incredibly tasty bacon appetizers into your mouth, the urge to reach for another and another will be very difficult to resist!
Ingredients
bacon slices (as many as needed)
wafer style crackers (as many as needed)
Directions
Plain Bacon Wrapped Crackers
Preheat oven to 350° F.
Cut bacon slices in half or thirds, depending on desired amount of bacon per each cracker. Wrap bacon strips fairly loosely around the centers of each cracker (bacon will overlap). (Tip: Bacon tends to shrink as it cooks, so if bacon is wrapped too tightly, it will pinch centers of crackers). Place bacon wrapped crackers seam-side-down on a broiler rack resting on a drip pan. Bake for 20-25 minutes, or until bacon is cooked and fairly crisp.
Bacon Wrapped Crackers with Brown Sugar
Sprinkle bacon-wrapped crackers lightly with a small amount brown sugar before baking (or 10 minutes before done to create a more crumbly effect (as shown in photo)).
Bacon Wrapped Crackers with Honey
Using a table knife, gently spread bacon-wrapped crackers lightly with a small amount of honey before baking.
Other recipes you might like: