Bacon Wrapped Little Smokies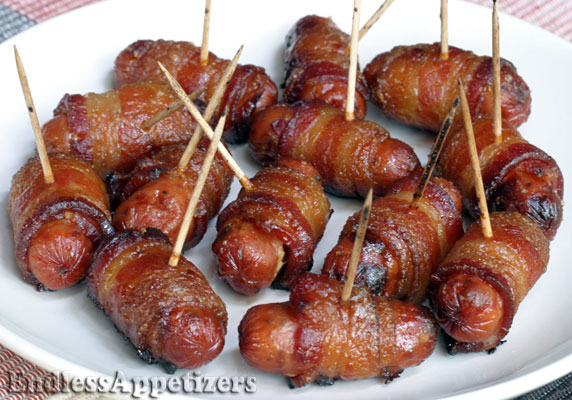 Tips:
Flavored little smokies and/or beef, pork, chicken or turkey weenies may be used.
Suggestion:
Serve as party appetizers or as a fun snack anytime.
For a moment, let's just talk about all the wonderful qualities of bacon, and how fabulous it tastes with almost anything on the planet. If you're a fan of bacon appetizers, or simply like to enjoy a bacon snack every now and then, you'll want to give these Bacon Wrapped Little Smokies a whirl!
If you've never tried bacon-wrapped little smokies (also sometimes referred to as lit'l smokies, 'lil smokies or cocktail weenies), you're in for a real treat! The little smokies are wrapped in strips of bacon that have been cut into thirds, then secured with toothpicks and sprinkled generously with some brown sugar (you can
adjust the sugar to your own preference for sweetness). Simply pop in the oven and bake until the bacon is crisp and serve! Unless your party guests are vegetarians, these delightful appetizers will disappear very quickly!
Little smokies come in different flavors and can often be found made with chicken or turkey, all of which will taste fabulous wrapped in bacon! (Tip: You can also make these bacon-wrapped wonders with regular-sized weenies, simply by wrapping whole strips of bacon around a weenie as opposed to cutting the strips of bacon into thirds. Bacon-wrapped full-sized weenies make a fun and easy lunch, and are nicely accompanied by
potato salad
,
bean salad
, a
green salad
or a side of fresh fruit. (Tip: If you do opt to make full-sized weenies with this recipe, try to avoid using the thicker sized weenies (unless they're made with turkey or chicken), because the thicker weenies tend to have more fat content, which can be a little heavy when combined with bacon.
Final tip: This recipe calls for lining your baking pan with aluminum foil. This is a step that will save you a good amount of clean-up time, because some of the brown sugar may melt and drip down the sides and on to the pan. When lining the pan with aluminum foil, once the Bacon Wrapped Little Smokies are cooked, simply remove the foil and discard!
Ingredients
1 pound bacon
1 package cocktail weenies, any type or flavor
dark brown sugar (1 cup or more, if desired)
Directions
Cut bacon strips into thirds. Wrap each cocktail weenie with a cut strip of bacon and secure with a wooden toothpick. Place on a rimmed baking sheet lined with foil. Sprinkle each weenie with a generous amount of brown sugar (as desired). Bake at 350 degrees for 30-40 minutes or until bacon is cooked and crisp. Serve hot.
Other recipes you might like: