Chili Cheese Balls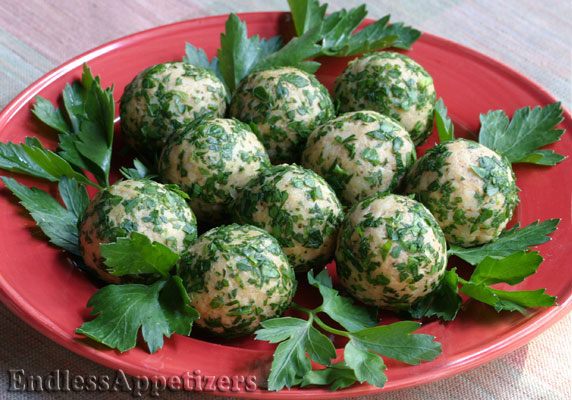 Yield:
40-45 cheese balls
Tips:
See recipe description for various coatings for cheese balls.
Suggestion:
Serve as appetizers for parties, holidays or any events, or for snacking anytime. Delicious on their own or served with assorted crackers.
Chili Cheese Balls are perfect served as appetizers or snacks for parties, holidays or anytime, and are delicious on their own or served with assorted crackers. These easy appetizers have a wonderful texture with a mildly tangy seasoning,
giving them a fun and festive flavor that appeals to all ages. Chili Cheese Balls begins with a mixture of shredded Monterey jack cheese, mozzarella cheese and cream cheese. These cheese are blended, then seasoned with chili powder, Dijon mustard, Worcestershire sauce and garlic powder.
The above photo shows Chili Cheese Balls coated with minced fresh flat leaf parsley (simply by rolling the balls over the parsley). However, if you'd like to add some variety to your presentation, you can also coat these cheese balls with other ingredients, such as finely chopped nuts, (walnuts, almonds, pecans, etc.), toasted sesame seeds, finely diced olives (green or black), finely diced black or colored peppercorns, finely diced sun-dried tomatoes and the list goes on! Whip up a batch of these impressive and tasty cheese snacks and watch them disappear!
Ingredients
2 cups grated Monterey jack cheese (8 oz.)
1 cup grated Mozzarella cheese (4 oz.)
1 3 oz. package cream cheese
1 tablespoon Dijon-style mustard
1 teaspoon Worcestershire sauce
1/4 teaspoon garlic powder
2 teaspoons chili powder
minced fresh flat-leaf parsley
Directions
In an electric mixer bowl (or you can use a
handheld electric mixer
), combine all 3 cheeses, mustard, Worcestershire sauce, garlic powder and chili powder. Beat on medium speed until well-blended. Shape into 1-inch balls, then roll in minced parsley. Chill in refrigerator before serving. Serve with toothpicks for easy taking. May be eaten alone or served with assorted crackers.
Other recipes you might like: