Cranberry Apple Wonton Cups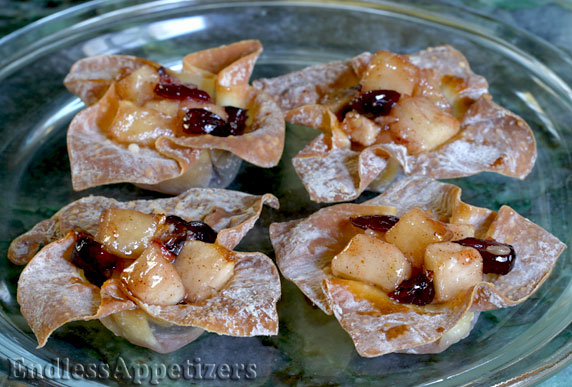 Yield:
About 30-32 wonton cups
Tips:
Wonton cups may be sprinkled with powdered sugar just before serving, if desired. Lemon juice is optional, though recommended for optimum flavor.
Suggestion:
Serve as a fun fruit appetizer for parties, a Christmas dessert, or a fruit snack or dessert anytime.
Whether you're looking for some fruit appetizers, party appetizers, holiday party appetizers (including Christmas desserts), appetizers for a crowd of any kind, or would simply like to experiment with some mini desserts, these Cranberry Apple Wonton Cups will fit into all of these categories and will pleasantly surprise you and your guests! Though different in texture, shape and size, these wonton appetizers (or desserts) are like a fun snack version of
mini apple pies
, in that they have all that fabulous apple pie filling
flavor - yet they are not as filling because of their petite size and the fact that they are made with wontons rather than pie crust. These festive apple appetizers are as colorful as they are tasty, are appreciated by kids and adults, and everyone in between. They are also very easy to make, and require a short cooking time. Cranberry Apple Wonton Cups feature small chopped pieces of apple and dried cranberries baked with a wonderful glaze that adds flavor and a pretty sheen that makes these wonton cups sparkle! The chopped apples and dried cranberries are first combined with an easy apple pie spice mix, then are briefly cooked in a saucepan, releasing the natural juices from the apples and cranberries. A thickener of flour and water is added to thicken the juices and create a glaze, and the apple and cranberry mixture is spooned into the wonton cups (which are briefly baked before filling). After only 15 minutes of baking, your Cranberry Apple Wonton Cups are ready to serve and dazzle! For an extra effect, some powdered sugar can be sprinkled over the tops of the wonton cups, if desired.
Ingredients
30-32 wonton wrappers (from a small refrigerated package)
1/4 cup (1/2 stick) butter, melted
confectioners' sugar (as garnish - optional)



Filling

4 medium fuji or cameo apples
1 tablespoon lemon juice
3/4 cup sugar
1/2 teaspoon ground cinnamon
1/8 teaspoon grated nutmeg
1/2 cup dried cranberries
1 tablespoon water
2 tablespoons flour
Directions
Preheat oven to 350° F. Lightly spray a mini muffin pan with cooking spray.
Place melted butter in a small bowl, then using a
pastry brush
, brush one side of each wonton wrapper with melted butter. Carefully fit each wonton wrapper into the muffin cups, butter side up. Bake for 10 minutes, or just until lightly browned. Remove baked wontons from the pan and transfer to a wire rack and allow to cool. Once cooled, place the baked wontons back into the muffin cups in the muffin pan. (Do not turn oven off, because you will be baking the wonton cups again.)
Peel and core apples, then cut into quarters and dice into 1/2-inch cubes. Place cut apples in a medium saucepan, then add lemon juice, sugar, cinnamon and nutmeg and gently stir to combine. Bring slowly to a boil (over medium-high heat), stirring occasionally. Once boiling, add cranberries and boil for about 5 minutes, stirring frequently.
Place flour in a small bowl, then stir in water to make a paste. Add flour paste slowly to the apples and cranberries and cook, stirring constantly. Continue cooking until the mixture has thickened (about 3-5 minutes).
Using a spoon, carefully spoon the apple and cranberry mixture into the wonton cups (trying to make sure each wonton cup has the same amount of fillng). Return filled wonton cups to the oven and bake for another 15 minutes, or until the filling begins to bubble.
Remove from the oven and allow to cool slightly (about 1 minute). If desired, sprinkle with confectioners' sugar and serve.
Other recipes you might like: