Panko Chicken Nuggets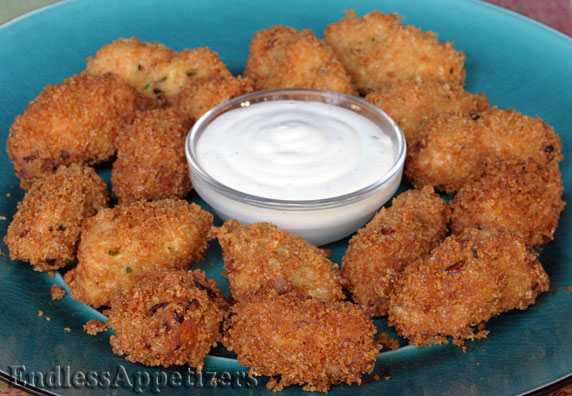 Tips:
Nuggets may also be made into rounded ball shapes if desired.
Suggestion:
Delicious served with Buttermilk Ranch Dressing, Chipotle Ranch Dressing, Blue Cheese Dressing or any creamy salad dressing or dip.
At one time or another, we have all likely tried a chicken nugget, chicken strip, chicken finger, or whatever you prefer to call them. This Panko Chicken Nuggets recipe offers a
pleasant change from traditional chicken nuggets for two reasons. Reason #1: Rather than using solid pieces of chicken, this recipe combines small shredded pieces of chicken with other ingredients, which are then formed (much like meatballs) into bite-size shapes . Reason #2: While most breaded and fried chicken is made with one or more types of flour and perhaps some cornmeal or other coating ingredients, this recipe uses Panko bread crumbs, which start off as light-weight, tiny flakes and produce a very light, crumbly and crispy texture when fried. As the photo shows, the result is irresistable tasty morsels that all ages will love. These chicken nuggets taste great on their own, but are extra tasty when accompanied with creamy salad dressings, such as
Buttermilk Ranch
,
Chipotle Ranch
,
Zesty Ranch
, blue cheese dressing or any creamy dips you enjoy.
Ingredients
1/4 cup diced green onion
1 tablespoon butter
1/2 teaspoon dry mustard
1/4 teaspoon garlic powder
1/4 tespoon kosher salt
6 oz. cooked chicken
2 eggs, divided
3/4 cup panko bread crumbs, divided
about 4 cups oil for frying
Directions
Using a knife and fork or a food processor, shred chicken into small pieces so they will blend easily with the other nugget ingredients and will able to be formed into shapes (about 1/2-inches in size).

Melt butter in a small skillet, then saute onions on medium heat until until tender (about 1 minute). Transfer sauteed onions to a large mixing bowl. Add mustard, garlic powder, salt, shredded chicken, 1 egg and 1/4 cup of the panko bread crumbs. Stir until blended.

Place a small amount of mixture (roughly 1-inch balls) in your hand and squeeze into a random oblong shape (continue squeezing and shaping until the mixture stays together.) Place on a greased baking sheet. Continue this process until all the mixture has been formed into nuggets.

Pour oil into a medium-sized pot or in a deep fryer and heat to 350° F.

While oil is heating, whisk remaining egg with 2 tablespoons of water in a shallow bowl or pie pan. Put remaining 1/2 cup panko crumbs in another shallow bowl or pie pan. Arrange bowls so panko crumbs are closest to the oil. One at a time, roll nuggets around in egg and water mixture to thoroughly coat, then roll in panko crumbs until fully coated, gently pressing crumbs onto surface when necessary to help them stick.

When oil has reached 350°, gently lower nuggets into oil with a large spoon or other utensil, cooking one-half of the nuggets. Rotate nuggets often to ensure entire surface turns evenly brown and crisp (about 4 minutes per batch). Transfer fried nuggets to a few stacked paper towels to drain. Repeat process with second batch of nuggets. Serve warm with any variety of dipping sauces.
Other recipes you might like: