Kitchen Supplies
Just as a good set of tools can help a carpenter get the job done more quickly and accurately and with less frustration, kitchen cooks benefit substantially from a good set of essential kitchen supplies. While restaurant kitchens are often stocked with the best commercial kitchen equipment available, home kitchen cooks can also turn their kitchens into a highly functional, productive and
inspiring environment, simply by stocking them with some helpful kitchen equipment. The list of kitchen equipment displayed on these Kitchen Supplies pages includes cooking supplies, baking supplies, kitchen gadgets, cookware and other kitchen equipment that will help make your experience in the kitchen a more efficient and enjoyable one. These kitchen supplies represent those I already own or would personally purchase if I were ready to upgrade, but there are certainly plenty of brands and styles from which to choose to suit your own personal needs, taste and budget. If you are shopping for one of the items shown below or would simply like to view more information, you can do so by clicking any of the image or text links for each item. If you're looking to save time, you can also immediately purchase any item shown simply by clicking the "buy now" button in the pop-up windows that appear when you hover over any image or text link. New kitchen supplies are added to these pages regularly, so please visit again soon for new great kitchen equipment ideas!
Kitchen Supplies ▼
Sometimes jar lids are so stubborn, that no matter how hard you try to twist them open, they won't budge! This twisting style jar opener is especially great for opening jars that contain ingredients like honey, jelly and preserves or other sticky substances that might make the jar lid stick to the jar. These jar openers are small, making it easy to store in a drawer.
More information: 
Twister Jar Opener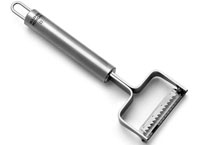 Small, handheld Julienne Peelers are wonderful tools for peeling small, thin, long strips from vegetables such as carrots, cucumbers, potatoes, zucchini or other vegetables that have some length to them. They are also great for dressing up desserts with julienned apple, lemon and orange peels, or even chocolate. This tool is lightweight and very easy to handle!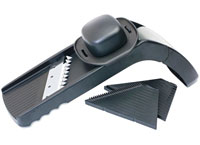 A mandoline slicer is a versatile and valuable tool to have in the kitchen. It very quickly slices fruits and vegetables with great ease, making each slice uniform in size. Mandoline Slicers require no electricity, and store very easily. These slicers can be used on a flat surface or over a bowl. You can even find a variety of small handheld mandoline slicers for just a few dollars in stores.
See more information: 
Mandoline Slicer
When it comes to making seasoned meatballs as well as sauces, there will be the need for measuring a variety of ingredients into your ground meat, such as chopped onion, parsley, bread crumbs, milk, broth and the list goes on! A good set of measuring cups is highly valuable, and even better when you have the convenience of additional sizes, such as 1/8, 2/3 and 3/4 of a cup!
More Information:
Stainless Steel Measuring Cups
When it comes to making meatballs, measuring spoons are a must; and just like measuring cups, it helps to have additional sizes, such as 1/2 of a tablespoon, 3/4 of a teaspoon, 1/8 of a tespoon and even small measurements such as a pinch or dash! Though you can certainly get by with the minimal basic teaspoon sizes, it makes cooking much easier with the additional sizes.
More Information:
Measuring Spoons
Meat grinders are wonderful for those who like to use their own choice cuts of meat for recipes that use ground beef, ground pork, ground chicken, ground turkey or even ground fish! Grinding your own meats will also allow you to prepare your food with leaner meat, should you desire. There are a few styles of meat grinders out there, including attachments made for electric mixers.
See more information:
Electric Meat Grinder