Cheese and Sausage Croissant Bites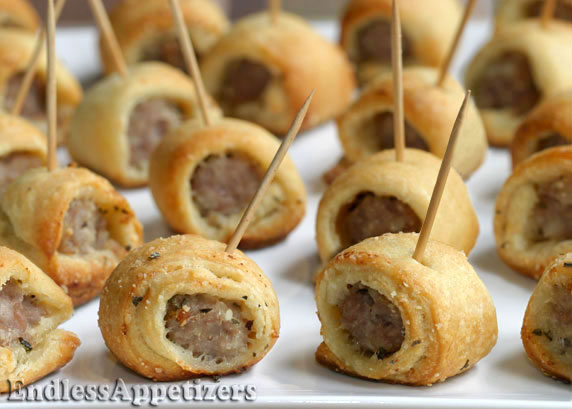 Yield:
32 bite-size-appetizers
Tips:
May be prepared in advance and stored in refrigerator in a covered container for a few hours until ready to bake. If preferred, you can also make homemade croissant dough (see recipe description for details).
Suggestion:
Serve as an appetizer for breakfast, brunch or any occasion.
When it comes to appetizers, sometimes we need a crowd-pleasing appetizer recipe that's quick and easy, requiring very little preparation with only a few ingredients. Whether you're planning for a cocktail party, brunch, holiday gathering or any other type of social event, Cheese & Sausage Croissant Bites fit that bill. All you need to make these tasty sausage appetizers is an 8-oz. container of crescent
roll dough (found in one of the refrigerator sections of grocery stores), a small package of brown and serve link sausage (8 links), a small amount of Parmesan cheese, butter and dried oregano. That's it! Preparation couldn't be easier, either. There's no need to cook the sausage before placing these bites in the oven. Plus, toothpicks are inserted into each bite-size serving before baking, so when they come out of the oven, they're ready to serve as individual finger foods.
If you prefer to make your own croissant dough from scratch, you can do so simply by following the Croissants recipe, rolling out the dough to a thickness of about 1/8 inch, then cutting it into 4-inch squares. Keep in mind that this will make more dough than an 8-oz. package, so you might want to reduce the recipe to suit your needs. On the other hand, if you're making appetizers for a large crowd, the larger amount of croissant dough might work well for you. You can also find large packages of link sausages in warehouse grocery warehouse, making this appetizer more economical when preparing for larger crowds.
Ingredients
1 8-oz. can refrigerated crescent rolls
1 tablespoon melted butter
1/4 cup grated Parmesan cheese
1 teaspoon dried oregano
8 brown and serve sausages (uncooked)
Directions
Preheat oven to 375° F (for convection ovens, preheat to 350° F.).

Separate crescent dough into 4 rectangles on a lightly floured surface (to prevent dough from sticking to work surface). Pinch and press diagonal perforations together to seal. Brush each rectangle with melted butter. In a small mixing bowl, combine cheese and oregano, then sprinkle over each rectangle.

Cut each rectangle crosswise to form 2 squares (pizza cutters work well for cutting dough). Place a sausage link on the edge of each square, then roll up, adjusting position to make sure seam is on the bottom. Using a sharp knife, cut each rolled-up square into 4 pieces, then secure each piece with a toothpick.

Spray a baking sheet with nonstick spray. Place croissant bites cut-side down on baking sheet (about 1 inch apart) and bake for 10-13 minutes or until croissant bites turn a light golden brown (oven temperatures may vary, so watch closely towards the last 5 minutes of baking and adjust baking time as needed). Leave toothpicks in croissant bites so guests can easily serve themselves.
Other recipes you might like: