Jalapeno Artichoke Dip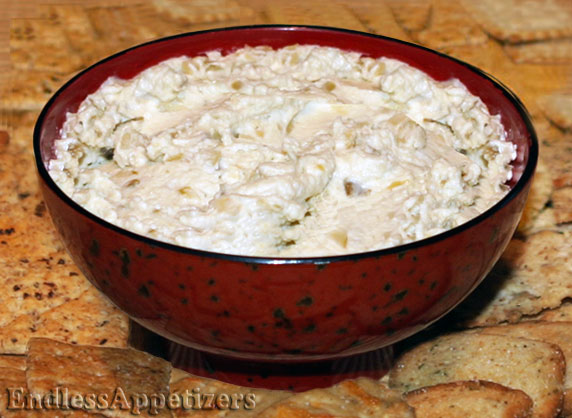 Yield:
16 servings or 2 cups
Tips:
You may also make this by hand, but a food processor is easier.
Suggestion:
Serve with various crackers, chips and/or fresh raw vegetables.
This Jalapeno Artichoke Dip recipe is made with pickled jalapenos, marinated
artichoke hearts, cream cheese, Parmesan cheese and Tabasco Green Jalapeno Sauce, all together creating a wonderful combination of spice and flavor. This festive dip is a huge hit at parties and other events and tastes perfect accompanied by assorted crackers, tortilla chips, corn chips, a variety of fresh raw vegetables and more. Jalapeno Artichoke Dip is a quick and easy dip to prepare and will last in your refrigerator as long as the expiration date of your cream cheese. It's a good idea to hold on to the marinade from the jar of artichoke hearts, because this can be used to thin the dip if it thickens, as well as add more flavor. Jalapeno Artichoke Dip has just the right amount of spice to please everyone, from the tame to the wild at heart!
Ingredients
1 8-oz. package cream cheese, softened
1 cup freshly grated Parmesan cheese
4 pickled jalapeño peppers, seeded and finely chopped
1 6-oz. jar marinated artichoke hearts, drain, reserve marinade
2 teaspoons Tabasco green jalapeño sauce
Kosher or coarse salt and freshly ground black pepper to taste
Directions
Place Parmesan cheese and cream cheese in a food processor and process until blended. Transfer cheese mixture to a mixing bowl.

Place jalapeño peppers in food processor and process until chopped. Add drained artichoke hearts to jalapenos and process just until coarsely chopped. Add artichoke and jalapeño mixture and the jalapeño sauce to cheese mixture. Mix well with a fork until well blended. Salt and pepper to taste. Refrigerate until ready to serve.
Other recipes you might like: