Sausage Meatballs with Mustard Dill Sauce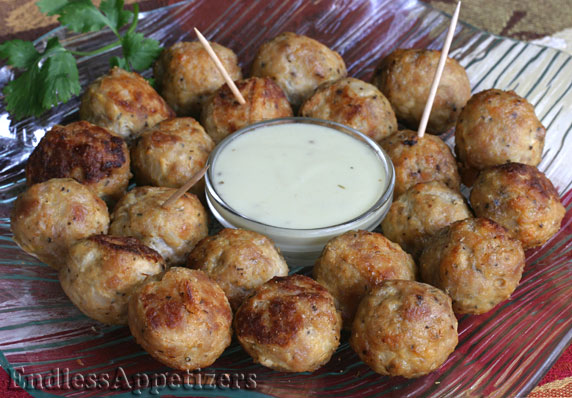 Yield:
About 30 small meatballs
Cook Time:
5-6 hours (in slow cooker) / 20 minutes in oven and on stove top
Tips:
Meatballs may be cooked on the stove top (quick method) or in a slow-cooker (4-6 hours). Pork sausage or turkey sausage may be used.
Suggestion:
May also be served as a main course over pasta or rice.
This easy meatball recipe is versatile, in that can be served both as an appetizer or cocktail meatballs (with the mustard dill sauce served on the side for dipping), or as a main course with the meatballs and sauce combined, served over pasta or rice. These meatballs can also be cooked using different cooking methods. The quickest method is to simply brown the meatballs in a skillet for about 10 minutes. The next quickest method is to bake the meatballs on a broiler pan in the oven until the meatballs are browned and cooked through (about 20 minutes). Some prefer this method of cooking meatballs, because it produces meatballs with
less fat content, giving them a healthy advantage. The last method involves 15 minutes of baking, then 4-6 hours in a slow-cooker. This may take a little longer, but is quite convenient and produces tender flavorful meatballs.
The mustard dill sauce is easy to prepare, and can be made just before serving, or prepared in advance and stored in the refrigerator until you're ready to serve the meatballs, at which time you simply heat it up in a saucepan on the stove top.
These Sausage Meatballs can be made using bulk pork sausage or turkey sausage (for those who prefer meatballs that lean on the light and healthy side). The mustard dill sauce for these meatballs is smooth, creamy and delightful and provides plenty of sauce, whether you're making this as an appetizer or main course. Making the sauce is a snap! Simply create a butter and flour roux, then stir in some milk, sour cream, table mustard and dill and season to taste with salt and pepper. The sauce has a mild yet full flavor with hints of mustard and dill, and beautifully compliments the sausage meatballs. Whether you make Sausage Meatballs with Mustard Dill Sauce as an appetizer or main dish, this meatball recipe will appeal to all ages!
Ingredients
Meatballs

1 1/2 lbs. extra lean bulk pork or turkey sausage
1 7-oz. can water chestnuts, drained and finely chopped
2 eggs
1/4 cup dry bread crumbs
1/2 teaspoon leaf basil
1/4 teaspoon salt
1/8 teaspoon ground black pepper



Mustard Dill Sauce

1/4 cup butter
1/4 cup flour
1 1/2 cups milk
salt and pepper to taste
2-3 teaspoons prepared mustard
1/4 teaspoon dill weed
1 cup sour cream
Directions
Meatballs
Preheat oven to 425°F.
In a medium
mixing bowl
, combine all meatball ingredients and mix until thoroughly blended. Shape into bite-size meatballs (about 1 inch in diameter). Place meatballs on the rack of a broiler pan and bake for 15 minutes.
Lightly grease slow-cooker Place browned sausage balls in lightly greased Slow Cooker. Cover and cook on low setting for 5-6 hours. Serve on wooden picks for dipping into sauce.
Mustard Dill Sauce
In a saucepan, melt butter over medium heat. Blend in flour until smooth. Gradually stir in milk. Add remaining ingredients. Cook and stir until smooth and thick.
Other recipes you might like: