Chili Roasted Cashews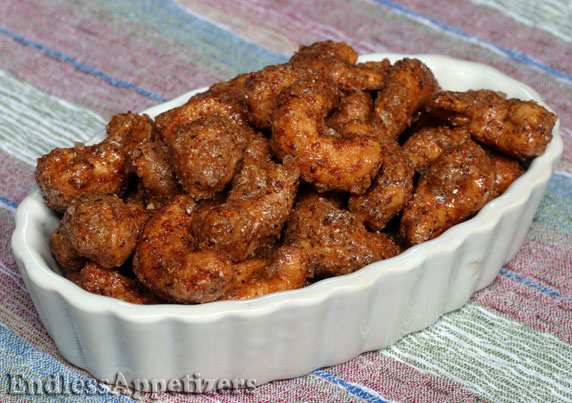 Tips:
May be made using peanuts, if desired.
Suggestion:
Delicious as an appetizer or an anytime snack.
Flavored roasted nuts are always an easy appetizer snack to put together, and a big hit, whether served during the holidays, at parties and social gatherings, or for anytime snacking. These Chili Roasted Cashews have a wonderful crispy outer crunch
and a delicious mildly spicy, sweet and salty flavor provided by a mixture of chili powder, cayenne pepper, cumin, sugar and coarse salt. This roasted cashew recipe is super easy to make and will produce enough cashews for a small crowd. It's simply a matter of coating the nuts with a little egg white and water mixture, then tossing them with the seasonings and popping them in the oven! Because of the perfect flavor balance of spice, sweetness and saltiness, these roasted nuts are loved by all ages and can be quite addicting - so don't expect them to lasl long! Chili Roasted Cashews can also be made a day or two in advance and stored in an air-tight container. Any leftovers (though don't count on it!) will last up to 2 weeks. If you prefer peanuts over cashews, this recipe may also be made with peanuts - or a combination of both peanuts and cashews.
Ingredients
1 egg white
1 tablespoon water
1 pound (about 3 1/2 cups) whole cashews (or peanuts)
1/3 cup sugar
1 tablespoon chili powder
2 teaspoons ground cumin
2 teaspoons kosher, sea salt or coarse salt
1/2 teaspoon cayenne pepper
Directions
Preheat oven to 250° F.

In a medium mixing bowl, whisk together egg white and water until foamy. Add cashews and toss to evenly coat. Pour cashews into a strainer and gently shake to allow excess egg white and water mixture to drain through for about 30 seconds. Pour cashews into a medium mixing bowl and set aside.

In a small mixing bowl, combine sugar, chili powder, cumin, salt and cayenne pepper and whisk until thoroughly combined. Add nuts to combined seasonings and toss with a large spoon until evenly and thoroughly coated.

Pour nuts onto a flat baking pan with sides and spread around to a single layer (no nuts should lie ontop of other nuts). Place in oven and bake for 40 minutes.

After the first 40 minutes of baking, remove nuts and stir with a spatula, spreading out again into a single layer. Return to oven and bake for 20-30 minutes longer, or until cashews appear dry.

Remove nuts from the oven and loosen the nuts with spatula, leaving them in the baking pan. (Tip: Nuts can easily be separated with the tines of a fork.) Allow to completely cool to room temperature (nuts will become crisp as they cool). Once completely cooled, serve or transfer to an airtight container and store at room temperature. Roasted cashews will stay fresh for up to 2 weeks.
Other recipes you might like: