Mini Honey Apple Tarts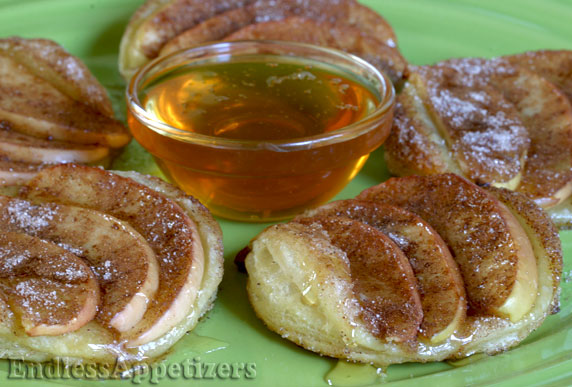 Tips:
Choose apples about 2 3/4 inches in height so they will comfortably fit into 2 3/4-inch puff pastry circles. After apple tarts have cooled, they may be sprinkled with powdered sugar after drizzling honey, if desired.
Suggestion:
Serve as little individual desserts or as a fruit snack or appetizer.
If you're looking for simple dessert recipes, these unbelievably easy Mini Honey Apple Tarts are much like mini apple pies, and are the perfect way to serve little individual sweet snacks or desserts for parties, holiday gatherings or anytime! Because of their small size, these little apple tarts are not too filling, yet still deliver that satisfying sweet flavor that we sometimes crave.
Apple tarts are much like apple pie, yet with apple tarts, the apples are arranged in a decorative repetitive pattern to create an elegant effect. Although these mini apple tarts only have three slices of apples on each individual serving, they are arranged in a pattern to create that pretty apple tart effect!
This Mini Honey Apple Tarts recipe is amazingly easy to make, and requires only a few simple ingredients. All you need to make these mini apple tarts is a package of puff pastry and 1 or 2 apples (depending on their size). If you have sugar, honey and cinnamon in your pantry, you're set to go! (Tip: Try to choose apples that are about 2 3/4-inches in height, because the slices will fit in a nice and tidy way on the 2 3/4-inch-round puff pastry cut-outs. You will need a 2 3/4-inch biscuit cutter (or an empty can with the same diameter) to cut out the individual puff pastry circles.)
Ingredients
1 sheet frozen puff pastry, thawed and ready to use
1 to 2 apples (skins on), cored and cut into thin slices (about 3/16 inch)
1/4 cup sugar
2 teaspoons ground cinnamon
honey (for drizzling after baking)
Directions
Preheat oven to 400° F.
Line a
baking sheet
with parchment paper. Open the puff pastry sheet onto a work area. Using a 2 3/4-inch cookie cutter, cut rounds out of the puff pastry and arrange them on the prepared baking sheet 1 to 2 inches apart. Place three apple slices on each pastry circle. In a small
mixing bowl
, whisk together sugar and cinnamon, then sprinkle 1/2 teaspoon of this mixture evenly over each tart.
Place tarts in oven and bake until the puff pastry turns golden-brown around the edges and apples become slightly tender (12-14 minutes). Drizzle honey over baked tarts, then transfer parchment paper with tarts to a cooling rack. Cool tarts before serving.
Other recipes you might like: