Seafood Appetizers
Seafood appetizers can be a wonderful addition to any occasion. They are light,
colorful and full of flavor, not to mention the added benefits of nutrients and minerals they have to offer. Though this page is in its early stages and clearly is crying out for more seafood appetizer recipes, the recipes below are great beginners for this page. I personally prepared and tested these recipes, and can testify to each recipe's delicious flavor! When it comes to preparing seafood appetizers, the sky's the limit on the type of seafood you can use. Crab and shrimp are always popular for appetizers, but virtually any type of seafood can be used when preparing seafood appetizers for parties and other social events. Clearly this page cries out for more seafood appetizers, so please check back as my quest for new great seafood appetizer recipes continues!
Seafood Appetizer Recipes ▼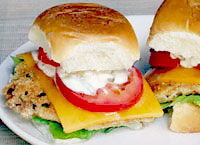 If you're looking for a new and fun, quick and easy way to serve fish that everyone in the family will love, these
Tilapia Sliders
are the perfect answer! These
mini sandwiches
feature tasty little coated and fried Tilapia filets sandwiched between two soft Hawaiian style buns, together with slices of cheddar cheese, romaine lettuce leaves, tomato slices and a sweet and tangy homemade tartar sauce.