Tilapia Sliders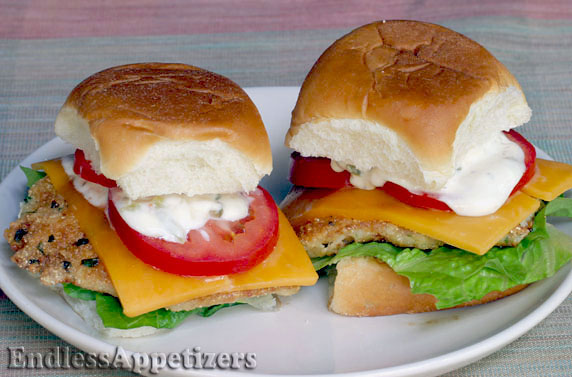 Tips:
Small Hawaiian-style rolls or other soft rolls may be used. Other condiments can also be used with these mini sandwiches, such as honey mustard, ketchup or barbecue sauce. Rolls are delicious eaten soft or broiled lightly on the insides.
Suggestion:
Also delicious served for lunch or dinner.
If you're looking for a new and fun, quick and easy way to serve fish that everyone in the family will love, these Tilapia Sliders are the perfect answer! These miniature fish sandwiches feature tasty little Tilapia filets sandwiched between two soft Hawaiian style buns, together with slices of cheddar cheese, romaine lettuce leaves,
tomato slices and a sweet and tangy homemade tartar sauce that gives these little sandwiches the perfect final touch. The fillets are dipped in an egg and milk wash, then coated with a seasoned flour and cornmeal mixture flavored with fresh chopped parsley and a generous amount of grated Parmesan cheese. After only 6-7 minutes of frying in a skillet, the golden brown crusty fillets are ready to "slide" into the buns (which can be served soft or lightly broiled on the insides). The tartar sauce is easier than ever to make, consisting of mayonnaise (any version you prefer - regular, light or low-fat), pickle relish, freshly squeezed lemon juice and a little salt and pepper to taste. If you'd like to skip the buns, these little Tilapia fillets taste great on their own with a side of the tartar sauce. This is a great quick dish to put together for lunch, snacks or dinner, and will have you in and out of the kitchen in no time!
Ingredients
Sliders

1/2 cup milk
2 eggs
1 cup flour
1/4 cup yellow cornmeal
1/2 cup grated Parmesan cheese
2 tablespoons chopped fresh parsley
salt and pepper
4 tilapia fillets, cut into 16 equal pieces
3 tablespoons olive oil
16 Hawaiian-style or other soft rolls
4 elaves romaine lettuce, cut into quarters
1/2 tomato, sliced
4 slices cheddar cheese, cut into quarters



Tangy Tartar Sauce

1/2 cup mayonnaise
2 tablespoons pickle relish
1 tablespoon lemon juice
salt and pepper to taste
Directions
In a small mixing bowl, whisk together the tartar sauce ingredients and set aside.

In a medium mixing bowl, whisk together milk and eggs. In a separate medium mixing bowl, whisk together flour, cornmeal, Parmesan, parsley and salt and pepper to taste.

Dunk fillets in the egg and milk mixture, then dredge in the flour mixture, coating both sides evenly.

In a large skillet, immediately heat olive oil over medium-high heat. When oil is hot (but not smoking), add the fillets to skillet. Cook on one side until the coating has turned a light golden brown (about 4 minutes). Carefully turn the fillets over and cook the other sides for 2-3 minutes more. Remove from skillet with a slotted spatula and drain on paper towels.

Slice the rolls, then place a few lettuce leaves on the bottom half. Place a fillet over the lettuce, then top with cheese slices, tomato slices and tartar sauce.
Other recipes you might like: