California Wraps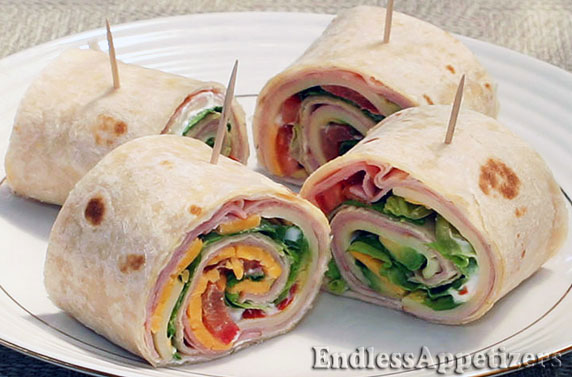 Yield:
1 large sandwich or 6 sliced mini sandwiches
Tips:
To make additional sandwiches, simply increase Sour Cream spread ingredient measurements and repeat sandwich directions until you have desired amount of servings.
The California Wrapper is made with thin slices of turkey and ham, provolone and cheddar cheeses, ripe avocado, tomato and lettuce, all rolled up into a large 12-inch tortilla that has been
coated with a delightful sour cream spread flavored with hints of dill and freshly squeezed lemon. The rolled-up tortilla is then sliced into separate servings. This sandwich is as easy to make as it sounds, and just as delicious! California Wrappers can be made in advance and stored in the refrigerator in plastic wrap a day in advance.
These sandwiches are great served for lunch or brunch with a side of potato or other salad or fresh fruit, or can be sliced into smaller portions and served as appetizers at any event. Making enough sandwiches for a large crowd is also a cinch, and just a matter of repeating this recipe until you have the amount of sliced servings you need. Wrapped up separately, California Wrappers are also fantastic as a quick snack right out of the fridge!
Ingredients
Filling

1 12-inch tortillas (any type)
enough thinly sliced turkey to cover tortilla (about 8 slices)
enough thinly sliced ham to cover tortilla (about 8 slices)
enough thinly sliced provolone cheese to cover tortilla (6-8 slices)
about 8 slices cheddar cheese (to scatter over but not cover entire tortilla)
1/2 ripe avocado, pared and sliced
enough romaine lettuce leaves to cover tortilla (about 3-4 leaves)



Sour Cream Spread

1/4 cup mayonnaise
1/4 cup sour cream
1/4 teaspoon dried dill weed or 1/2 teaspoon fresh dill weed
1/2 teaspoon lemon juice
Directions
Place tortilla on work area. Spread entire tortilla with a layer of Sour Cream Spread. Place single layers of turkey slices on entire surface of tortilla (about 8 slices). Repeat process with ham slices. Place provolone slices, then cheddar cheese slices on top of meats. Evenly scatter tomato and avocado slices on tortilla. Top with romaine leaves, covering entire tortilla.

Roll up tortilla slowly, trying to keep all ingredients in place as you roll. Slice off any amounts that get squeezed out at the end of rolling process. Serve as one sandwich wrap or slice into two or more servings (photo shows 1 1/2-inch slices). To slice, simply place rolled-up wrap on a cutting board (seam side down) and slice into desired thicknesses. Pierce each sliced serving with a toothpick to hold together.
Other recipes you might like: