Southwest Chicken and Bacon Wraps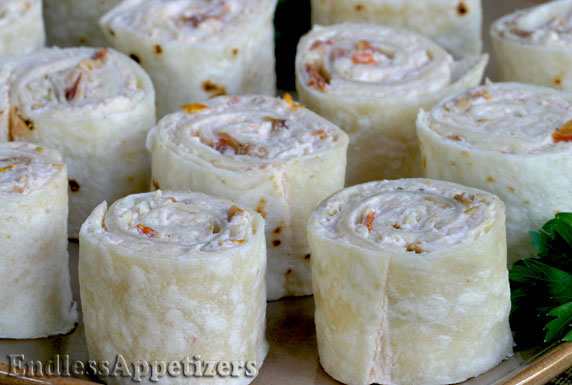 Yield:
30-36 servings, depending on size of tortillas
Tips:
Tortillas larger than 8 inches in diameter may be used, but will have less mixture between spiraled tortilla rows. Tortillas may be trimmed to 8 inches if needed. To prepare as a meal, simply do not slice the rolled tortillas and serve whole.
Suggestion:
Delicious served with a side of fruit, such as grapes, melon and/or strawberries. Great served as appetizers or snacks.
Tortilla wraps (also often referred to as roll ups) are great served as appetizers because they are so easy to put together, and when made with 8-inch tortillas, can be cut into small servings that are easy to handle and perfect for snacking. They can also be served as a light
meal simply by serving them whole (without slicing). These Southwest Chicken and Bacon Wraps are super easy to make and have a fun and festive flavor that makes them a perfect finger food appetizer for parties brunch or almost any occasion; and because they are enjoyed by all ages, they also are a great idea for serving as a fun kid s' party food. This recipe for chicken wraps is especially easy and convenient because the ingredients are pre-packaged; so there is no need for cooking or chopping, and clean up is a cinch! Making these chicken and bacon roll ups is simply a matter of mixing the ingredients (cream cheese, salsa, bacon and chicken) in a bowl, then spreading it onto the tortillas. (Turkey breast may be used instead of chicken, if desired.) Roll them up, stick them in the fridge until you're ready to serve them, then slice and serve! You can adjust the level of spice by the choosing mild, medium or spicy chunky salsa.
Ingredients
8 oz. cream cheese, softened
10-oz. canned chicken breast (or turkey breast) chunks, drained
1/3 cup crumbled bacon
1/2 cup chunky salsa
6 8-inch soft flour tortillas
Directions
In a mixing bowl, combine cream cheese, bacon and salsa and stir until cream cheese is smooth and all ingredients are thoroughly combined. Add chicken and gently stir until combined and chicken chunks have broken up into smaller spreadable pieces.

Spread mixture evenly over each tortilla. Roll tortillas up, then wrap in pastic wrap and store in refrigerator until ready to serve.

When ready to serve, slice wraps into 1-inch pieces (or if serving as a meal, do not slice and simply serve whole).
Other recipes you might like: