Cheddar Cheese Sticks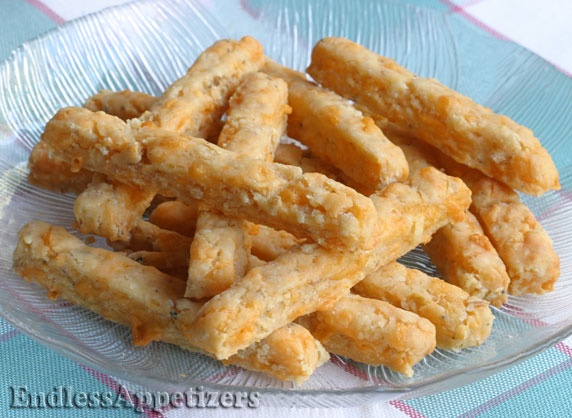 Yield:
About 26 cheese sticks
Cook Time:
About 20 minutes
Tips:
Cheddar cheese or other preferred cheese may be used.
Suggestion:
Serve on their own or with some
ranch dip
on the side.
When it comes to kids' birthday party planning (or any type of kids' event), fun and simple snacks for kids are always a safe bet, because let's face it; kids like snack foods that are made with a few simple ingredients and aren't too complicated. Cheese sticks always seem to be a big hit at parties, and also make terrific afternoon snacks!
Before we talk about how to make cheese sticks, let's keep in mind that there are different types of cheese sticks. Some cheese sticks are made with sticks of actual
mozzarella cheese coated with bread crumbs, then deep fried or baked and possibly served with
marinara sauce
. Another type of cheese sticks are those made with a mixture of grated cheese (such as cheddar cheese), flour and a few other ingredients, having a slight similarity to cheese breadsticks, albeit much smaller. The flour and cheese mixture is usually rolled out and cut into small sticks, then baked. While both types of cheese sticks are very tasty and definitely enjoyed by kids (and everyone else), this recipe features the style of homemade cheese sticks that are made with flour and cheese, as well as some fresh bread crumbs, milk and a pinch of cayenne pepper.
Making these Cheddar Cheese Sticks couldn't be easier! The ingredients are basically just mixed together, rolled out, then cut into miniature sticks and baked until golden. Cheddar cheese gives these cheese sticks a nice festive color, though other cheeses can be used as well. To turn this into a healthy snack for kids, you can always use whole wheat flour instead of all-purpose flour, and whole grain bread for the fresh bread crumbs. If you'd like to serve these cheese sticks with a dipping sauce,
Zesty Ranch Dip
is one kids will usually universally enjoy.
Ingredients
2 tablespoons butter, softened
2/3 cup flour
1 cup fresh bread crumbs
1 cup grated cheddar cheese
1/4 teaspoon salt
1/8 teaspoon white pepper
pinch of cayenne
2 tablespoons milk
Directions
Preheat oven to 325° F.
To a medium
mixing bowl
, combine butter, flour, bread crumbs, cheese and seasonings. Mix thoroughly with a fork. Once fully blended, add milk and stir again until fully blended. Roll out to a 3-inch-wide by 1/4-inch thick rectangle. Cut shortest width of rectangle into 1/4-inch-thick by 3-inch-long inch strips.
Bake for 15-20 minutes or until cheese sticks turn to a golden brown.
Other recipes you might like: