Cheese Coins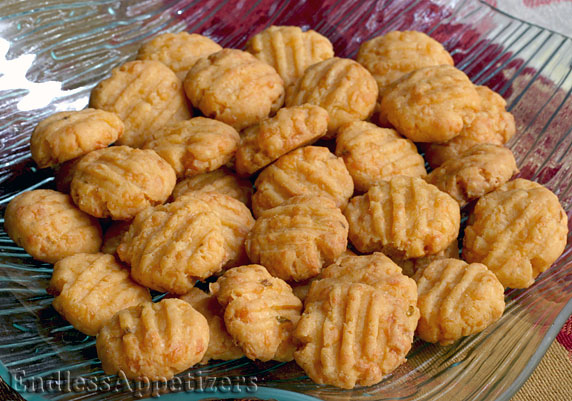 Yield:
6 1/2 dozen (about 78) appetizers
Tips:
Cheddar cheese or Monterey jack cheese may be used. or a combination of both.
Suggestion:
Great served as appetizers for cocktail parties and holiday parties, as kids party snacks, or snacks anytime!
These Cheese Coins are as fun and tasty as they look, and will fit in perfectly with any type of event! If you're looking for holiday party food, such as Thanksgiving appetizers or Christmas appetizers, some easy appetizer recipes to add to your cocktail party menu, some fun kids' party snacks, or simply some good snack foods to serve anytime, these flaky Cheese Coins will certainly deliver! When it comes to appetizers and snacks, easy finger foods are
always a great way to go. There's no need for fussing with utensils and plates, and guests can just grab and snack right from the bowl. These little pop-in-your-mouth cheese snacks have a hearty yet flaky texture and an outer crust with a light crispy crunch. Cheese Coins have the distinct flavor of cheddar cheese, with a little "kick" provided by some diced green chiles, pimiento, Worchestershire sauce and dry mustard. These tempting finger food appetizers are quickly whipped up by combining some flour, butter, your choice of cheddar or Monterey jack cheese, along with the diced green chiles, pimientos and seasonings. Once a dough is formed, small amounts of this mixture are rolled into little balls, then are lightly smashed with the tines of a fork. After just 15 minutes of baking, you'll have plenty of warm and tasty cheese snacks ready for serving. Cheese Coins can be served as hot appetizers fresh from the oven, at room temperature, or even as cold appetizers straight from the fridge. Whether stored at room temperature or in the fridge, Cheese Coins will stay fresh in an air-tight container for 1-2 weeks.
Ingredients
1/2 cup butter, softened
2 cups shredded cheddar or Monterey Jack cheese
1/2 teaspoon dry mustard
1/2 teaspoon seasoned salt
2 teaspoons finely chopped canned green chiles
2 teaspoons minced pimiento
1/2 teaspoon Worcestershire sauce
1 1/4 cups flour
Directions
Preheat oven to 350° F.

Place butter, cheese, mustard, seasoned salt, green chiles, pimiento and Worcestershire in an electric mixer bowl and beat on medium speed until fully blended. Add flour and beat on low to mix just until flour is incorporated. Remove mixer bowl and manipulate dough until it is stiff enough to form into a ball. Measure level teaspoonfuls of dough, then form into small balls. Place on an ungreased baking sheets about 1 inch apart. Press each ball lightly with the tines of a fork to about 3/16-inch thick. Bake for 15 mintues or until lightly browned. Serve hot or cold.
Other recipes you might like: