Cheese and Vegetable Pizza Bagels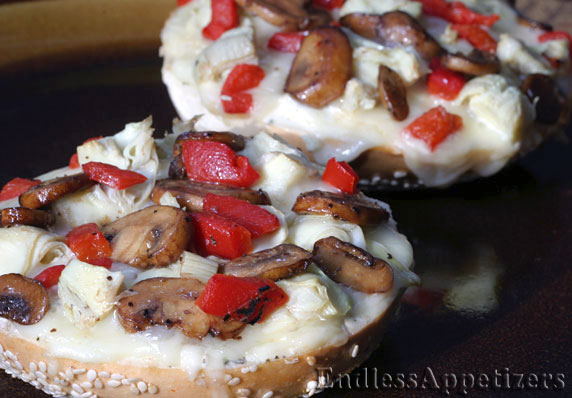 Cook Time:
About 18 minutes
Tips:
Types of bagels recommended for this recipe: Onion, everything, sesame, plain, egg or onion. Additional pizza bagels can be made into cheese pizza for kids, or topped with traditional pizza toppings such as pepperoni, sausage, etc. See recipe description below for ideas. Pizza Bagels may be made as appetizers on regular-sized or mini bagels, or served for brunch, lunch or dinner.
Once again, pizza succeeds in presenting itself in a new and surprising (and delicious) way! This recipe for Cheese and Vegetable Pizza Bagels delivers fresh, healthy and flavorful pizza without the need for pizza dough. Whether you normally make your own homemade
pizza dough
or purchase pizza dough (or pre-cooked pizza dough) from the grocery store when you're in the mood for some homemade pizza, you'll enjoy this quick and easy method of arranging your pizza toppings on sliced bagels!
These Cheese and Vegetable Pizza Bagels can be made with your choice of bagels (continue reading for some suggestions). A tasty cream cheese spread that has been seasoned with fresh minced garlic and herbs gives these mini pizzas an unexpected underlying flavor burst! The bagels are sliced, then topped with the cream cheese mixture and some shredded mozzarella cheese. The toppings for these pizza bagels
begin with mushroom slices that are sautéed in butter, salt and pepper and a little balsamic vinegar, giving them fabulous flavor. Along with the sautéed mushrooms, bite-size pieces of artichoke hearts and roasted red bell pepper are placed on top of the cheeses, and the pizza bagels are baked in the oven for less than 10 minutes until hot and melty.
When choosing bagels for these pizza bagels, almost any bagels will do, including sesame, plain, egg, sourdough, everything or onion bagels. Cheese and Vegetable Pizza Bagels are great as a fun and easy brunch, lunch or dinner, and are perfect served as appetizers, especially when prepared on mini-sized bagels. If you are making these pizza bagels for the family and have some pizza fans who would rather have traditional pepperoni, sausage or other popular pizza toppings on their bagels, no problem! Simply spread some pizza sauce (from a jar of prepared pizza sauce) on the bagel slices, then top them with some shredded mozzarella cheese along with any other favorite toppings (pepperoni and other similar meat toppings work best when cut into smaller pieces). These pizza bagels can also be made as cheese pizza for kids, simply by skipping the vegetable (or traditional meat) toppings altogether. Another great thing about these pizza bagels is that any leftover cheese and toppings can easily be stored in the refrigerator (until the earliest expiration date of any of the ingredients) and used again and again.
Ingredients
Herbed Cheese Spread

1 teaspoon minced garlic
salt to taste
1/2 teaspoon pepper
1/2 teaspoon dried basil
1/2 teaspoon dried oregano
2 tablespoons milk
8 oz. cream cheese, softened at room temperature



Sautéed Mushrooms

2 tablespoons butter
1/4 teaspoon salt
1/4 teaspoon pepper
8 white mushrooms, cleaned and sliced
1 tablespoon balsamic vinegar



Pizza Bagels

6 bagels (onion, honey wheat, everything, sour dough, plain or sesame), sliced in half
1 1/2 cups shredded mozzarella cheese
3/4 cup artichoke hearts, cut into 1/2 inch pieces
3/4 cup roasted red peppers, cut into 1/2-inch-long pieces
Directions
Preheat oven to 350° F.
Herbed Cream Cheese
In a medium mixing bowl, mix with a fork cream cheese, garlic, salt to taste (a dash or two), pepper, basil, oregano and milk. Set aside.
Sautéed Mushrooms
Melt butter in a non-stick skillet over medium-high heat. Add salt and pepper and mix with a spatula to evenly blend with butter. After 15-30 seconds, add sliced mushroom and toss to evenly coat. Sauté mushrooms for 8-10 minutes, or until mushrooms have reduced in size and have turned golden brown in color. Stir in balsamic vinegar and heat for an additional 30 seconds. Remove from heat and set aside.
Pizza Bagels Assembly
Spread cream cheese mixture on bagel halves (Note: Cream cheese may be divided evenly to accomodate each bagel slice or used as desired). Top with shredded mozzarella, artichokes, roasted red peppers and sliced mushroom.
Place topped bagels on a baking sheet and bake in oven for 7-9 minutes, or until cheese has begun melting and if desired, begins to turn brown.
Other recipes you might like: