Mozzarella and Roasted Red Pepper Flatbread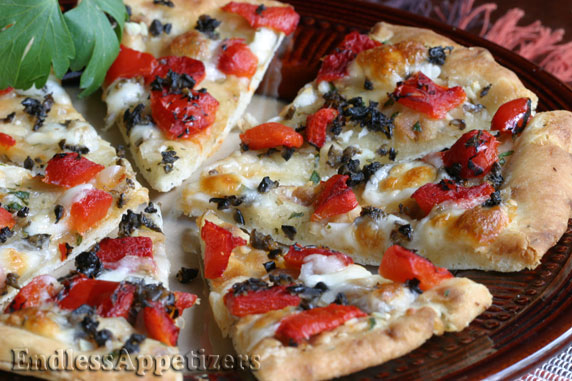 Tips:
Feta or goat cheese may be used instead of mozzarella, if desired. Any type flavor or shape of flatbread may be used, including naan bread or pita bread, as long as it is no less than 1/8-inch thick. Slices may be cut into triangle or rectangle shapes, preferably about 3 inches long and 1 1/2 to 2 inches wide.
Suggestion:
Serve as an appetizer or snack.
When it comes to healthy appetizers and party snack ideas, it's always a plus when they're easy to make, requiring less time and effort. This flatbread recipe (also sometimes referred to as flatbread pizza) is incredibly easy to make, because preparation is simply a matter of topping pre-made flatbread with a few tasty ingredients, then popping the topped flatbread into the oven until the flatbread is warm and the cheese has begun to melt. Each flatbread is then cut into small,
individual finger food size servings.
When choosing which type of flatbread you'd like to use with this recipe, virtually any shape, flavor or type of flatbread can be used, as long as it's at least 1/8-inch thick. In addition, the flatbread can be cut into triangle or rectangle shapes, depending on the shape of the flabread. For example, round pita bread (also a form of flatbread) can be cut into triangle wedges, just as you would slice pieces of pizza, though because pita bread is only about 6 inches in diameter, the sizes will be perfect finger food size. Rectangular flatbread can be cut into rectangular size pieces, as can larger loaves of flatbread. Flatbread also comes in different flavors. Garlic flavored flatbread works very well with this recipe, though plain, whole wheat, whole grain or other flavors may be used as well.
This flatbread recipe is versatile, in that you can substitute feta cheese or goat cheese for the mozzarella if you prefer, and the amount of cheese can be increased or decreased, depending on how cheesy you'd like this flatbread appetizer to be.
Ingredients
flatbread (about 1 lb. of any shape or size)
olive oil (as needed)
2-3 cloves garlic, minced
1/4 cup plus 2 tablespoons chopped roasted red peppers
2 cups fresh mozzarella cheese that has been broken into small pieces
1/4 cup chopped black olives
Directions
Preheat oven to 375°F.
Place a small amount of olive oil (2-4 tablespoons) in a small bowl and using a
pastry brush
, lightly brush olive oil over top of each flatbread. Evenly sprinkle each flatbread evenly with minced garlic. Evenly sprinkle tops of each flatbread with chopped roasted red peppers and mozzarella, then chopped olives.
Place topped flatbread on a baking sheet and bake for 12-15 minutes, or until hot and lightly browned and the cheese has begun to melt. Remove from oven. Using a large sharp knife or pizza cutter, slice bread into appetizer size pieces. Tip: Flatbread (such as pita bread) that is about 6 inches in diameter can easily be cut into small triangles due to its shape and size. Serve immediately.
Other recipes you might like: