Cream Cheese Wontons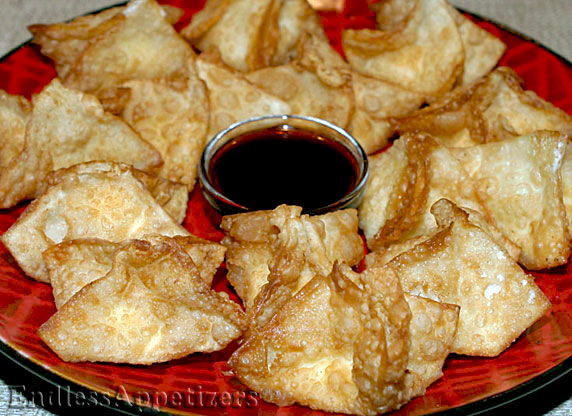 Tips:
This is a fun appetizer to let the kids help prepare.
Suggestion:
Serve at parties or any social gathering, holidays or anytime!
Cream cheese wontons are fun and full of flavor and texture. They make a wonderful appetizer for parties, events and holidays, and certainly please all ages. These little appetizers are crispy on the outside with a
delightful whipped cream cheese filling inside that's flavored with finely minced green onions and water chestnuts. They are served with a mild soy-based dipping sauce that truly compliments these delightful treats and is unbelievably easy to prepare.
Wontons can be served with an endless variety of fillings, and in addition to frying, can be baked or boiled or served in soups. Wontons can also be formed into various shapes as well, depending on your personal preference. The photo above shows these Cream Cheese Wontons shaped by pinching all four corners together, giving them an appearance much like that of a flower or a sack with drawstrings. If you're looking for a fun and tasty appetizer that's easy to prepare and will be loved by all ages, Cream Cheese Wontons will fit the bill!
Ingredients
Wontons

1 package wonton wrappers
2 cups whipped cream cheese (or 12 oz. container)
2 tablespoons finely minced green onion (white parts only)
1/4 cup finely minced water chestnuts



Dipping Sauce

1/2 cup soy sauce
1/4 cup rice vinegar
1/4 cup sugar
4 teaspoons sesame oil
1/2 teaspoon finely minced fresh gingerroot
Directions
Dipping Sauce
In a small sauce pan, mix soy sauce, rice vinegar, sugar, sesame oil and gingerroot. Heat on medium, stirring once or twice, until sauce begins to bubble. Immediately remove from heat and allow to cool while cooking wontons.
Wontons
Preparation
In a small mixing bowl, mix together whipped cream cheese, green onions and water chestnuts until thoroughly blended. Have a small bowl of water handy at your work area for wetting edges of wonton wrappers.
Spoon about 2 (measured) teaspoons of cream cheese mixture into center of one wonton wrapper at a time. Dip your finger into bowl of water (as many times as necessary) and wet all four corners (this is to help wonton wrapper corners to stick together). Lift 2 opposite corners of the wonton wrapper, and bring them together, pinching ONLY the points together so they stick.
Lift the remaining 2 wonton corners, and bring them up to the other 2 pinched corners and pinch together so they stick. Sides of wontons will have small openings.
Cooking
In a small or medium saucepan or deep fat fryer, heat enough oil to almost cover wontons (about 3/4 inches deep) to 325-350° F (if you don't have a candy thermometer to measure temperature of oil in skillet, simply heat oil on high and adjust as necessary while cooking wontons - wontons should cook within 5-10 seconds).
Place a large plate or tray covered with a few paper towels near frying area.
Cook 1 wonton first to get a good feel as to how quickly they cook and how to turn them over to cook them on both sides. Place a wonton in the oil, and allow to cook about 5-10 seconds or until light golden brown on the bottom. Using a slotted spoon or other scooping utensil, turn the wonton over and allow to cook the top of wonton for a few seconds more until light golden brown on the top.
Lift cooked wontons from the oil and place (top side up) on paper plate or tray of paper towels to drain. Continue cooking wontons, adding more wontons as you are comfortable to handle at a time. Serve with dipping sauce poured into small individual serving bowls.
Other recipes you might like: