Curry Chicken Cheese Puffs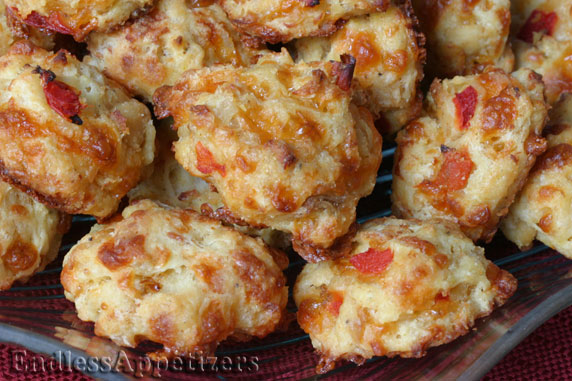 Tips:
Diced green bell pepper may be used instead of roasted red peppers. Ground curry may be omitted, if desired. Other types of shredded cheese may be used.
Finger food appetizers (the kind your guests can simply
pick up and pop in their mouths) are always great for parties, because they are casual and fun and usually require minimal preparation and clean-up. This Curry Chicken Cheese Puffs recipe is one of these easy finger food appetizer recipes, featuring pastry puffs containing finely chopped chicken breast (turkey may be used instead, if desired), shredded cheddar cheese (or other cheese, if desired), diced roasted red peppers (or diced fresh green bell pepper, if desired), seasoned with curry powder for a unique flavor boost.
These tasty chicken and cheese puffs are easy to make and will produce about 48 puffs. If you prefer to omit the curry powder from this recipe, these chicken cheese puffs will still have great flavor. These appetizers are great for all ages!
Ingredients
1 cup finely chopped cooked chicken (or turkey)
1 cup sifted flour
1 1/2 teaspoons baking powder
1 teaspoon onion salt
1/2 teaspoon curry powder
1/4 cup (1/2 stick) butter
1/2 cup milk
1 cup shredded cheddar cheese
1 tablespoon finely chopped roasted red peppers (or green bell pepper)
Directions
Preheat oven to 400°F.

In a medium mixing bowl, combine flour, baking powder, onion salt, and curry powder. Cut butter into mixture with pastry blender or fork until texture resembles coarse meal. Add milk and stir with a fork until evenly moistened. Add chicken (or turkey), cheese and roasted red peppers (or green pepper), blending well. Grease a baking sheet, then dust lightly with flour. Drop dough by teaspoonfuls onto baking sheet.

Bake for 15 minutes or until puffs appear golden brown in color. Serve warm. (Note: If desired, baked puffs may be placed in an air-tight bag and frozen for future use. To reheat, place puffs on a baking sheet in a 350-degree oven for about 5 minutes to thaw and crisp.
Other recipes you might like: