Crab Puffs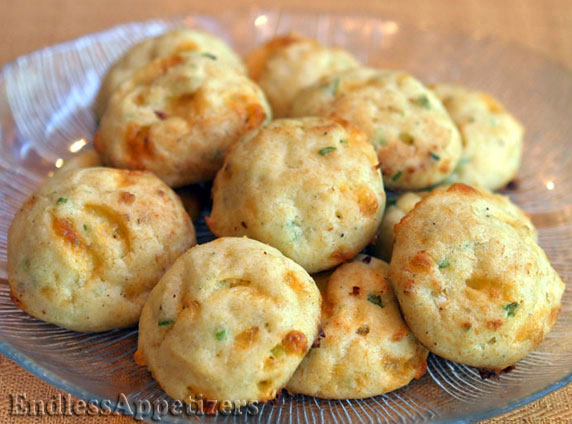 Yield:
About 5 dozen puffs
Tips:
After baking, may be frozen until ready to serve, then briefly reheated in oven (see recipe).
There are quite a few ways to prepare crab puffs. They can be made with flour or bread crumbs (or
both), and can be filled with any number of cheeses, including cheddar cheese, Swiss cheese, cream cheese and/or Parmesan cheese. They can be baked or fried, and can be seasoned in a variety of ways. The one thing they all seem to have in common is how easy they are to make! This Crab Puffs appetizer recipe uses all purpose flour, cheddar cheese and minced green onions along with some seasonings and flavorings that are traditionally very complimentary with crab. The mixture is quickly mixed up in a saucepan on the stove in just minutes, and small helpings of the mixture are scooped onto baking sheets just as you would scoop up small amounts of cookie dough. These crab puffs plump up into soft, light and fluffy balls that make attractive and sophisticated appetizers with nice subtle flavor.
Ingredients
1 6 1/2-7 oz. can crabmeat, drained
1 cup (4 ozs.) shredded cheddar cheese
3 scallions (green onions), minced
1 teaspoon Worcestershire sauce
1-2 splashes of hot pepper sauce (such as Tabasco)
1 teaspoon dry mustard
1/4 teaspoon salt
1/4 teaspoon pepper
1 cup water
1/2 cup butter or margarine
1 cup flour
4 eggs
Directions
Preheat oven to 400° F.

In a medium mixing bowl, mix together crabmeat, cheddar cheese, scallions, Worcestershire sauce, hot pepper sauce, dry mustard, salt and pepper. Set aside.

In a large saucepan, heat water and butter to boiling, stirring to melt butter. As soon as butter has melted, remove from heat. Immediately add flour and beat with a fork until mixture leaves sides of saucepan and forms a ball. Add eggs, one at a time, beating until each is completely incorporated. Add crab mixture and mix thoroughly.

Grease a baking sheet with butter or spray with nonstick cooking spray. Drop teaspoons of dough about 1 inch apart onto baking sheet. Bake for 20-25 minutes or until puffs turn light golden brown. Transfer to cooling racks. Serve immediately or freeze. To reheat from frozen, bake puffs at 325° F. for about 10-15 minutes.
Other recipes you might like: