Broccoli Puffs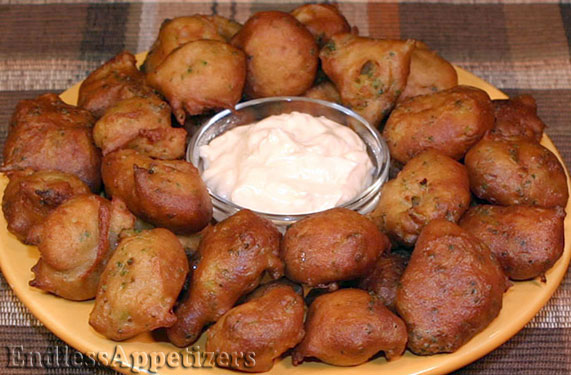 Yield:
6-8 side dish servings or 8-12 appetizer servings.
Cook Time:
About 3 minutes
Tips:
For more lemon flavor in sauce, add maximum amount of freshly squeezed lemon juice as suggested in recipe.
Suggestion:
Serve as a side dish or as an appetizer (see serving suggestion in photo below)
This Broccoli Puff recipe features puffy random-shaped hand-size morsels
made with a quick and easy dough filled with finely chopped broccoli florets. These broccoli appetizers are deep-fried (deep fat fryers or saucepans can be used for frying), giving them a light and crispy outer shell and a light and fluffy interior. These tasty little broccoli bites are served warm with a mildly tangy dipping sauce that you can whip up in just minutes. The creamy dipping sauce starts with equal parts of sour cream and mayonnaise, then combines the flavors of Parmesan cheese and lemon juice, along with hints of creamy horseradish and red pepper sauce to give it the perfect blend of spice and flavor. This snack is one that kids will also enjoy, and is a great way to help them get a dose of their daily veggies!
Ingredients
Broccoli Puffs



1/2 cup water
1/4 cup (1/2 stick) butter
1/2 cup flour
2 whole eggs
1/2 teaspoon salt
dash of hot red pepper sauce (such as Tabasco)
1 cup finely chopped cooked (al dente) broccoli florets



Dipping Sauce



1/2 cup butter
4 egg yolks, well beaten
2 to 2 1/2 tablespoons lemon juice
pinch white pepper
1/8 teaspoon salt
Directions
Broccoli Puffs
In a small saucepan, bring water and butter to a boil. Reduce heat to low-medium and add flour all at once. Stir until mixture leaves sides of pan and forms a ball. Remove from heat. Add eggs, one at a time, beating well with an handheld electric mixer in the saucepan after you add each egg. . (Note: you can use an electric mixer for this process, though using a handheld mixer is much easier and is recommended.) Add salt and hot red pepper sauce, then stir in broccoli florets.
Heat about 1 inch of oil in a small or medium sauce pan over high heat. When oil is hot, drop broccoli batter by tablespoons into oil (use 2 serving spoons - one to scoop the batter, and one to scrape the batter off into the oil) and cook until puffs turn light golden brown (turn puffs over after first sides turn golden, then brown 2nd sides). Place on a plate covered with a few paper towels to drain. Serve with Dipping Sauce.
Dipping Sauce
In a small mixing bowl, mix together all ingredients and chill until ready to serve broccoli puffs.
Other recipes you might like: