Parmesan Broccoli Balls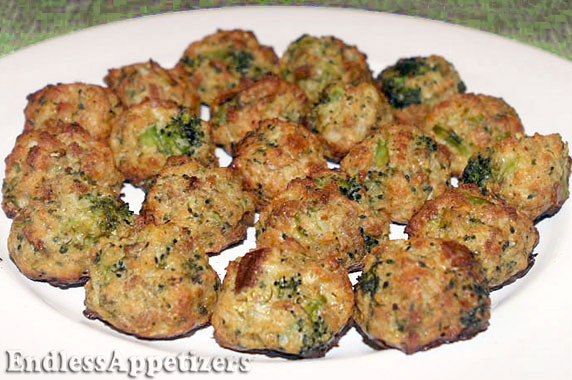 Suggestion:
Serve as an appetizer or snack, or as a fun accompaniment to a meal.
Parmesan Broccoli Balls are traditionally served as broccoli appetizers, but can also be served as a fun side dish or for anytime snacking. These tasty broccoli and cheese appetizer balls are loved by all ages, so no matter what type of crowd or event, they will disappear very quickly. After they
bake, these broccoli balls have a slightly crispy outer shell, and are chewy and cheesy on the inside, with the added subtle flavor of broccoli and a wonderful blend of other ingredients. Parmesan Broccoli Balls are are made with a simple combination of chopped broccoli flowerets, stuffing mix, Parmesan cheese, onions and egg.
It's always easy to tell which appetizers are the favorites of a crowd, simply by how quickly they disappear. I have served Parmesan Broccoli Balls at a number of social events, and witnessed first hand how quickly these little delights vanish! Parmesan Broccoli Balls are also a great way to serve your kids a green vegetable they will actually enjoy eating (and will even ask for more). This fun appetizer recipe can be made ahead of time and stored in the refrigerator until you are ready to pop them in the oven. After baking, simply remove from the oven and place on a serving tray and serve as a finger food or poke each ball with a toothpick for easy taking, then prepare yourself for the compliments!
Ingredients
10 oz. chopped broccoli
1 6-oz. package dry stuffing mix
1/2 cup grated Parmesan cheese
1 medium onion, diced
6 eggs, beaten
3/4 cup butter, melted
1 teaspoon ground black pepper
1/2 teaspoon garlic salt
Directions
Preheat oven to 325 degrees F.

Steam broccoli until cooked but firm (about 5 minutes). As soon as a fork can slide through the broccoli easily, remove from heat and cool. Don't overcook!

In a large bowl, mix broccoli, stuffing mix, Parmesan cheese, onion, eggs, butter, pepper, and garlic salt. Cover, and chill in the refrigerator approximately 1 hour, until moisture has been absorbed.

Roll the chilled mixture into 1 inch balls, and arrange on a medium baking sheet. Bake 15 to 20 minutes in the preheated oven, until browned. Note: Overcooking may dry them out, so watch them closely.
Other recipes you might like: