Crispy Crab Wontons with Avocado Creme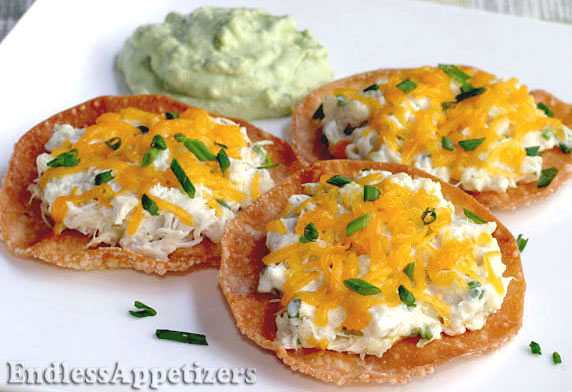 Tips:
May also be made into smaller bite-size portions.
Suggestion:
Serve with a side of fruit.
Crispy Crab Wontons with Avocado Creme feature crispy fried wontons topped with a light and tangy crab salad topped with melted cheddar cheese. This crab wonton recipe also features an Avocado Creme that is served on the side as garnish, made with avocado, lemon juice and a small
amount heavy cream. These Crispy Crab Wontons can be served for lunch, brunch or dinner as a light main course, or made into smaller bite-size portions to be served as delightful crispy crab appetizers.
Wonton wrappers can be found in most grocery stores in the refrigerated section near pickles, cheese and deli meats or Asian markets. If you can only find the square wonton wrappers, it's easy to cut the squares into circles. Simply find a jar lid or other circular shape that is about the same size as the wontons, then place on top of the wonton, and use the rounded edge of the jar lid at each corner to cut off the squared edges (and don't worry, the circles don't need to be perfectly rounded). When frying the wontons in oil, the trick is to find the right temperature that will cook each side of the wontons in about 15-20 seconds. If they cook too fast, they can easily burn, so adjust your heat as necessary to find the ideal temperature. If they cook quickly, simply remove them as soon as they turn light golden brown.
Ingredients
Wontons

oil for frying
15 3-inch round (or square wontons cut into circles) wonton wrappers



Crab Salad

8-10 ozs. crab meat, well drained
1/4 cup plus 2 tablespoons cup minced celery
1 tablespoon plus 1 1/2 teaspoons minced chives, plus more for garnish
2 teaspoons lemon zest (finely grated lemon peel)
1/4 cup plus 2 tablespoons mayonnaise
1 tablespoon lemon juice
1/8 teaspoon ground black pepper
4 oz. (1 cups) medium cheddar cheese, shredded



Avocado Creme

1/4 cup avocado pulp
1/8 teaspoon salt
1 1/2 teaspoons lemon juice
2 tablespoons cup heavy cream
Directions
Wontons
Pour enough oil into a skillet to cover wontons (about 1/4 inch deep). Heat oil to 350° F or on medium-high heat. Lay as many wonton wrappers as will fit into your skillet into the oil and fry until light golden brown, turning over to cook both sides (about 15-20 seconds per side). Adjust heat as necessary so wontons don't cook too quickly or take too long to cook. (Note: Cooking too quickly might burn wontons.) Drain fried wontons on paper towels. Set aside.
Crab Salad
In a medium mixing bowl, combine crab, celery, chives and grated lemon peel. In a small mixing bowl, stir together mayonnaise, lemon juice and pepper, then add to crab mixture and gently toss to combine.
Avocado Creme
Place avocado pulp, salt, lemon juice and cream in a small mixing bowl and smash and stir until well blended (small lumps are normal). Cover and refrigerate until ready to use.
Preheat oven to 400° F.
Top each wonton with crab salad and spread almost to the edges. Sprinkle each wonton with 1 tablespoon shredded cheese. Place wontons on a baking sheet and heat in the oven just long enough to melt the cheese (about 1-3 minutes).
To serve, arrange 3 wontons on each plate with a spoonful of Avocado Creme on the side. Garnish with chives if desired.
Other recipes you might like: