Crab Croquettes with Cocktail Sauce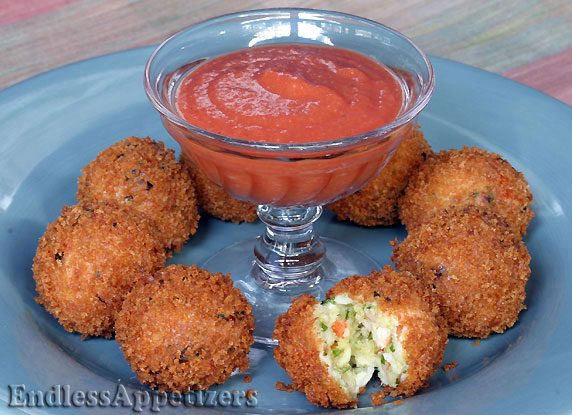 Tips:
Fresh crab, canned crab, frozen crab or imitation crab can be used.
Suggestion:
Delicious served with Cocktail Sauce (recipe included below).
When it comes to seafood appetizers, Crab Croquettes might be one of the best crab recipes out there. These petite crab appetizers are delicious and elegant, but also have an element of fun, due to their size and crispy coating and the
fact that you can dip them into a tangy, tasty sauce. Crab Croquettes are made with cooked crab, diced green onions, seasonings and some egg and panko bread crumbs to add flavor and help hold them together during the cooking process. They are then fried using a deep fat fryer or a saucepan until they turn a beautiful crispy golden brown (less than 5 minutes). You can use fresh crab, frozen crab, canned crab or even imitation crab with this recipe and always end up with fabulous results! The Crab Croquettes shown in the photo above were made into 1 1/2-inch balls, which produces 8 balls. If you'd like to make more servings, simply reduce the size of the balls (dividing the crab mixture into equal portions before forming it into meatballs will help you see how large the meatballs will be). The cocktail sauce is the same sauce commonly used with shrimp cocktail, and is the perfect flavor accent for these tasty crab snacks!
Ingredients
Crab Croquettes

1/4 cup diced green onion
1 tablespoon butter
1/2 teaspoon dry mustard
1/4 teaspoon garlic powder
1/4 tespoon kosher salt
6 oz. shelled, cooked crab (imitation crab may also be used)
2 eggs, divided
3/4 cup panko bread crumbs, divided
about 4 cups oil for frying



Cocktail Sauce

1 (14 1/2-ounce) can diced tomatoes, drained
1/2 cup prepared chili sauce
4 tablespoons prepared horseradish
1 teaspoon sugar
dash of freshly ground black pepper
1/2 teaspoon kosher or sea salt (table salt will work as well)
1 tablespoon olive oil
dash of Old Bay seasoning (optional, but recommended)
Directions
Crab Croquettes
Melt butter in a small skillet, then saute onions on medium heat until tender (about 1 minute). Transfer sauteed onions to a large mixing bowl. Add mustard, garlic powder, salt, crab, 1 egg and 1/4 cup of the panko bread crumbs. Stir until blended. (Note: If you are using imitation crab, break up and shred with fingers to make it easier to mix with other ingredients and form balls).
Form mixture into 8 balls and place on a greased baking sheet. (Tip: To make all the balls the same size, divide the crab mixture into 2 halves, then divide each of those halves in half, then divide all portions in half one more time to produce 8 similar-sized balls.)
Pour oil into a medium-sized pot or in a deep fryer and heat to 350° F.
While oil is heating, whisk remaining egg with 2 tablespoons of water in a shallow bowl or pie pan. Put remaining 1/2 cup panko crumbs in another shallow bowl or pie pan. Arrange bowls so panko crumbs are closest to the oil. One at a time, roll balls around in egg and water mixture to thoroughly coat, then roll in panko crumbs until fully coated, gently pressing crumbs onto surface to help them stick where necessary.
When oil has reached 350°, gently lower balls into oil with a large spoon or other utensil, cooking only 4 balls at a time. Turn the balls often to ensure entire surface of balls turns medium brown and crispy (about 4 minutes per each batch).
Transfer fried croquettes to paper towels to drain. Serve warm with Cocktail Sauce (recipe follows).
Cocktail Sauce
Place tomatoes, chili sauce, horseradish, sugar, pepper, salt and Old Bay seasonsing (if using) in a food processor and blend to a smooth consistency. Refrigerate sauce until ready to serve.
Other recipes you might like: