Hot Artichoke Crab Dip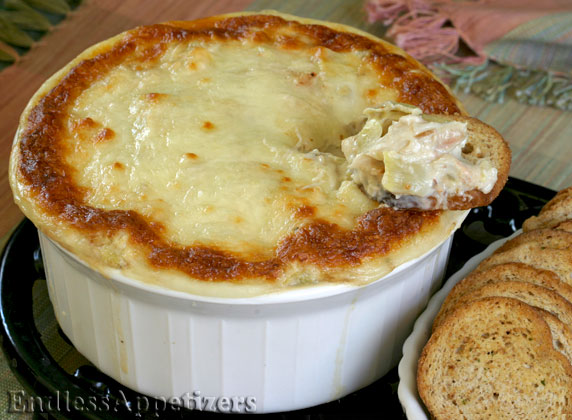 Yield:
18 3 tablespoon servings
Tips:
To save time (eliminating the need to remove crab shell pieces), 2 6-oz. packages of crab meat may be used.
Suggestion:
Serve as a dip for parties, holidays or any event.
Hot Artichoke Crab Dip is a fresh, healthy and wonderfully flavored dip, featuring a mixture of lump crab meat, chopped artichoke hearts, cottage cheese, cream cheese, Worcestershire sauce and seasonings with a topping of shredded mozzarella cheese. The crab, artichoke and cheese mixture is placed in a baking dish and topped with the shredded mozzarella cheese, then is baked until hot and melted and golden brown around the edges. This hot crab dip is perfect served with sturdy
crackers (such as whole grain crackers) or crudités (wholebite-size raw vegetables), and will add elegance to any event.
If you prefer a lighter dip with less fat content, this crab dip recipe can be made with nonfat or lowfat versions of cottage cheese, cream cheese and/or milk and/or part-skim mozzarella cheese. When purchasing your lump crabmeat, you can opt to buy it from the butcher section of your grocer and manually remove any shell pieces - or to skip the step of removing the crab shell pieces, you can simply purchase two 6-oz. packages of fresh shelled crabmeat. The 6-oz. packages of crabmeat will produce a slightly less amount of crabmeat, though the difference will be negligable. Alternatively, you can always use canned crabmeat as well.
If you have an attractive baking dish, you might want to use that dish when baking this Hot Artichoke Crab Dip, because it will add to the visual appeal when placed on the table. You can also divide the dip into two portions and bake it in smaller baking dishes (as shown in the above photo), if desired.
Ingredients
1 tablespoon butter
1 sweet onion, diced
2-4 cloves garlic, minced
1 cup cottage cheese (nonfat, lowfat or regular)
1 tablespoon milk (nonfat, lowfat or whole)
8 oz. cream cheese, softened
10 oz. artichoke hearts (frozen and thawed or canned), drained and chopped
1 tablespoon lemon juice
1 teaspoon Worchestershire sauce
1 tablespoon sherry
1/2 teaspoon ground black pepper
dash nutmeg
1 lb. lump crabmeat, drained shells removed (or 2 6-oz. bags shelled crabmeat)
1/2 cup shredded mozzarella cheese
Directions
Preheat oven to 350° F.
Melt butter over medium heat in nonstick skillet, then add onion, and sauté until onions carmalize (5-7 minutes). Add garlic and sauté for 2 more minutes, stirring frequently. Remove from heat and set aside.
Place cottage cheese and milk in a blender and purée until smooth and creamy, stopping blender once or twice to scrape ingredients down from sides of blender container to incorporate all ingredients. Add cream cheese and blend again until smooth.
In a large
mixing bowl
, combine onion, cottage cheese and cream cheese mixture, artichoke hearts, lemon juice, Worcestershire sauce, sherry, pepper, and nutmeg. Mix until thoroughly blended. Add crab and gently stir to combine. Spray a medium casserole dish with nonstick cooking spray, then pour crab and cheese mixture into casserole dish. Top evenly with shredded cheese, then bake for 20-30 minutes, or until top turns light golden brown around the edges.
Serve with
Broiled Crostini
or
Baked Crostini
, crudités (bite-size whole raw vegetables), or whole grain or any other variety of sturdy crackers.
Other recipes you might like: