Tapenade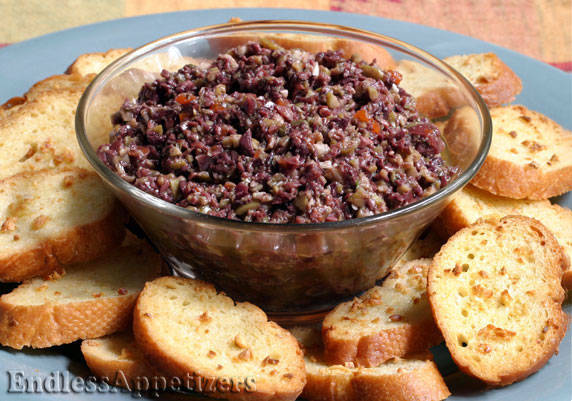 Tips:
May be prepared up to a week in advance and stored in an air-tight container in refrigerator until ready to serve. Stir briefly before serving.
Suggestion:
Serve with baked crostini (shown in photo), crackers,
pita chips
, thin slices of crusty bread or fresh raw vegetables.
This recipe for Tapenade (also sometimes called olive tapenade) combines a mixture of kalamata olives (Greek olives), green olives, garlic, capers and olive oil (fresh thyme and/or anchovies may also be added if desired, though are entirely optional). This tapenade is full of robust and distinctive flavor, and tastes fabulous with baked crostini (shown in photo above), pita chips, crackers, thin slices of crusty bread or crudités (appetizer-size cuts of fresh raw vegetables such as carrots,
sweet peppers, celery, broccoli, cauliflower and/or asparagus). It can also be served alongside a variety of other foods, such as goat cheese, feta cheese, sun-dried tomatoes and/or diced marinated artichoke hearts. These additional assorted foods can can be scooped up along with the tapenade, as they all taste delicious combined together. Tapenade is best served at room temperature, because the ingredients will be more relaxed. You can make tapenade in advance and refrigerate up to one week until ready to serve. When you're ready to serve your tapenade, allow it to sit at room temperature for about 5 minutes, then give it a quick stir just before serving to incorporate the olive oil. To serve, simply place the tapenade in a bowl in the center of a platter accompanied by baked crostini and/or any of the other foods mentioned earlier. If you'd like to serve tapenade with additional assorted toppings (also mentioned earlier), simply place those food items near or surrounding the tapenade. Lastly, if you prefer a more mild-flavored tapenade, you can add 1/4 cup of black ripe olives along with an additional 1 teaspoon of olive oil, though this tapenade is outstanding in its true robust form!
Ingredients
2 tablespoons drained capers
3 large cloves garlic, peeled
1 cup pitted kalamata or nicoise olives
1/2 cup mild green olives (with or without pimento)
6 anchovies (optional)
leaves from 1 sprig of fresh thyme (optional)
1/4 cup olive oil
freshly ground black pepper to taste
sprigs of fresh rosemary, thyme or Italian parsley for garnish (optional)
Directions
Place capers, garlic, anchovies (if using) and fresh thyme leaves (if using) in food processor fitted with the metal blade. Process until pureed, scraping sides of bowl to incorporate all ingredients.

Add olives and olive oil. Pulse until olives are finely chopped but not pureed. Stir in freshly ground black pepper to taste. Serve with assorted crackers, baked crostini, small thin slices of rustic or crusty Italian bread, or cut fresh raw vegetables. May also be served with sides of goat cheese, feta cheese, diced marinated artichoke hearts and/or sun-dried tomatoes. If desired, garnish with sprigs of fresh thyme.
Other recipes you might like: