Cheese Appetizers
Cheese Appetizers can be served in many forms, using any number of cheese types. Believe it or not, there are as many as 500 types of cheese, ranging from soft to hard, depending on their moisture content. The most obvious cheese appetizer requiring minimal preparation (and a great make ahead appetizer) would likely be slices or cubes of cheese served on their own with
toothpicks
, or with avariety of sliced or cubed meat and/or assorted crackers. Other easy
appetizer ideas using cheese might consist of grated cheese and one or more types of soft cheese, such as cream cheese, goat cheese or brie cheese, combined with various herbs and spices, then forming the cheese mixture into cheese logs or cheese balls, such as with
Chili Cheese Balls
. While cream cheese appetizers, goat cheese appetizers and brie cheese appetizers are often a popular choice when it comes to considering party food ideas, there are plenty of other soft cheeses that can be used in multiple ways, such as
Dips
and
Bruschetta or Crostini
. Soft cheese is fabulous when used in dips, giving the dips a creamy consistency with wonderful flavor, such as with
Hot Artichoke Crab Dip
,
Chili Con Queso
,
Jalapeno Artichoke Dip
and
Turkey Artichoke Cheese Dip
. Cheese can also be mixed in with pastry appetizers, such as with
Sesame Cheddar Turnovers
or
Sesame Cheese Twists
. Cheese can also be used as a filling ingredient for appetizers, often combined with other filling ingredients, as with
Cream Cheese Wontons
and
Cheese and Sausage Wonton Flowers
. The bottom line is, when it comes to cheese appetizer ideas, the possibilities are endless and as always, very delicious!
Cheese Appetizer Recipes ▼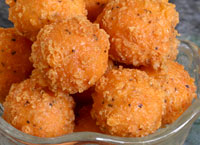 Cheddar Cheese Balls
are light and puffy, and have a delightful outer crispy coating and a golden color. These easy cheese appetizers feature any type of cheddar cheese you prefer (mild, sharp extra sharp, smoky, etc.) and couldn't be easier to make! The cheese mixture is made with a stiffly beaten egg white, which causes the cheese balls to puff and become light and airy inside, while the outer coating becomes wonderfully crispy!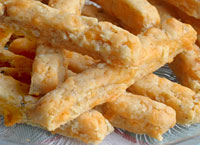 This
Cheddar Cheese Sticks recipe
couldn't be easier to make, and is great for serving at parties or events or as afternoon snacks! These homemade cheese sticks are made with a simple combination of flour, cheese, fresh bread crumbs, milk and a pinch of cayenne pepper. Simply combine, roll-out, cut into small sticks and bake! You can serve these cheese sticks alone or with a kid-friendly dipping sauce, such as
Zesty Ranch
.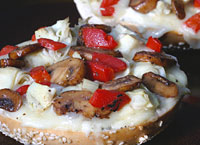 These
Cheese and Vegetable Pizza Bagels
begin with your choice of bagels. A tasty cream cheese spread seasoned with fresh minced garlic and herbs is spread on the bagel slices. Shredded mozzarella cheese. along with sliced mushrooms that have been sautéed in seasoned butter and balsamic vinegar, bite-size pieces of artichoke hearts and roasted red bell peppers are arranged on top, and the pizza bagels are briefly baked.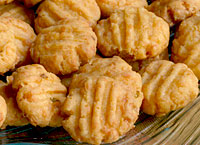 These little pop-in-your-mouth cheese snacks have a hearty yet flaky texture with the distinct flavor of cheddar cheese, and an outer crust with a light crispy crunch.
Cheese Coins
are made with flour, butter, your choice of cheddar or Monterey jack cheese, along with some diced green chiles, pimientos and seasonings. These little cheese appetizers can be served warm from the oven, at room temperature, or cold from the fridge.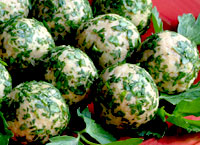 Chili Cheese Balls
are perfect served as appetizers or snacks, and are delicious on their own or served with assorted crackers.
Chili Cheese Balls
consist of shredded three cheese and are seasoned with chili powder, Dijon mustard, Worcestershire sauce and garlic powder. Photo shows these balls coated with chopped fresh parsley, though they can be coated with nuts or other ingredients.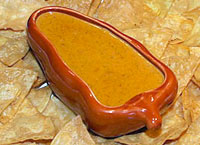 Chili Con Queso
is a tasty cheese and chili-flavored dip that is served warm, traditionally served with tortilla chips (especially great with
homemade tortilla chips
as shown in photo). This festive
cheese dip recipe
combines cheese, chili powder, a small amount of jalapenos and other spices, resulting in a lively dip with the right amount of spice!
Chili Con Queso
is also great with with French fries, fresh raw vegetables or over baked potatoes!