Meat Appetizers
Meat appetizers come in all shapes and sizes and can be made with any They can be made using ground meats,
thinly sliced deli meat or prepared meats, such as smoky link sausages, pepperoni, salami, etc. Perhaps one of the most popular form of meat appetizers is
meatballs
, because they can be using all sorts of ingredients as well as a large variety of sauces. Meat appetizers can feature simple small bite sizes of meat, such as cocktail weenies or chicken (breaded or not) served with dipping sauces. Some other examples of meat appetizers are pastries or wontons stuffed with meat or a mixture of meat and other ingredients, such as
Mini Calzones
,
Cheese and Sausage Croissant Bites
and
Cheese and Sausage Wonton Flowers
. Meat appetizers are especially great served at events where no dinner will be served; orl if dinner will be served, will be served quite late, leaving the guests hungry.
Meat Appetizer Recipes ▼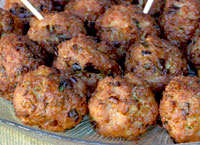 These
Asian Meatballs
are incredibly easy to make and cook in just 2-3 minutes! They're crispy on the outside and tender, hot and steamy on the inside, making them a fun and very tasty appetizer. As with most all meatball recipes, this Asian Meatball recipe can be made as a main course, simply by making the meatballs slightly larger and adding your favorite Asian style sauce and serving them over rice and perhaps with vegetables..
If you love bacon and are looking for easy appetizer recipes, these
Bacon Wrapped Crackers
are a fabulous idea! This appetizer recipe features wafer style crackers that are wrapped in bacon, then baked until the bacon crisps. The bacon wrapped crackers can also be topped with small amounts of brown sugar or honey before baking, giving these irresistble snacks a wonderful flavor combination of sweet and salty!
If you've never tried
Bacon-Wrapped Little Smokies
(also known as lit'l smokies, 'lil smokies or cocktail weenies), you're in for a real treat! The little smokies are wrapped in strips of bacon that have been cut into thirds, then secured with toothpicks and sprinkled generously with some brown sugar (you can adjust the sugar to your own preference for sweetness). Simply pop in the oven and bake until the bacon is crisp and serve!
Bacon Wrapped Water Chestnuts
are easy to make, and are loved by all ages! This fun appetizer features whole water chestnuts, each wrapped with 1/3 cuts of bacon slices. The bacon wrapped water chestnuts are baked for 30 minutes, then topped with an easy sweet and sour sauce, then returned to the oven for another 30 minutes or until they crisp. These appetizers are great for parties and are truly delightful!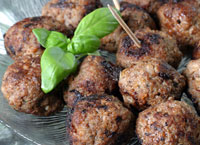 This easy meatball recipe features cocktail meatballs made with a combination of lean ground beef and ground pork, some Holland Rusk toast crumbs soaked in water and whipping cream, along with a some fresh basil leaves (or dried basil), garlic powder, cayenne pepper and salt and pepper.
Basil Meatballs
may also be made with other ground meats, and may be made as a main course with pasta and pasta sauce.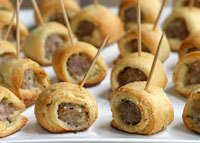 Cheese and Sausage Croissant Bites
are a quick and easy appetizer that require few ingredients. All you need to make these tasty bite-size
sausage appetizers
is a package of crescent roll dough, brown and serve sausage links, some Parmesan cheese, melted butter and dried oregano. That's it! Preparation couldn't be easier, either. No need to cook the sausage before baking. Just roll, bake and serve!