Cheese and Sausage Mushrooms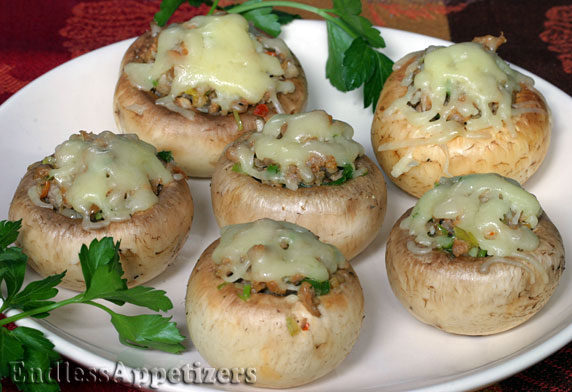 Yield:
16 appetizer servings
Tips:
May also be made with smaller mushrooms, producing more smaller servings, or with larger mushrooms, producing fewer larger servings. Sweet Italian sausage may be used instead of hot Italian sausage, if desired. If you don't have dried Italian seasoning, one or more of a variety of dried herbs may be used (see recipe directions for examples). Other cheese may be used instead of Monterey jack if desired, such as cheddar, pepper jack, swiss, mozzarella, etc.)
When it comes to appetizer recipes, there can never be enough. Mushrooms are very versatile, and can be prepared in a variety of ways. They can be marinated in flavorful sauces, be served fresh alongside other fresh vegetables with dips, or stuffed with any variety ingredients. This Cheese and Sausage Stuffed Mushroom recipe is very easy to prepare and produces bite-size mushroom appetizers with colorful eye appeal and full
festive flavor! These tasty stuffed mushrooms begin with a sautéed mixture of crumbled hot Italian sausage (sweet Italian sausage can be used instead, if preferred), minced garlic, diced green onions and diced mushroom stems, along with some dried Italian herbs and other seasonings. The mushrooms are brushed with olive oil, seasoned with the Italian herbs, then are stuffed with the sautéed sausage mixture. Some shredded Monterey jack cheese is arranged on the tops of the mushrooms (if preferred, other cheese may be used, such as cheddar, pepper jack, swiss, mozzarella, etc.), then the mushrooms are placed under the broiler just long enough to begin melting the cheese. You can make these mushroom appetizers with small, medium or large mushrooms, which will of course increase or decrease the amount of servings. Any leftover servings may be refrigerated and reheated in the microwave for about 20 seconds, though mushrooms will have the lightest color and freshest appearance when served immediately after being prepared.
Ingredients
16 medium-sized mushrooms
olive oil (as needed for coating mushrooms)
crushed and dried Italian seasoning (see tips for alternate seasonings)
1-2 large cloves garlic, minced
1/2 lb. hot Italian sausage, casings removed
5 green onions (white and green parts), diced
1 teaspoon Worcestershire sauce (optional)
salt and pepper to taste
1/2 cup shredded Monterey jack cheese
Directions
Remove stems from mushrooms by either gently twisting base until they break off, or by using a sharp knife. Remove any remaining stem pieces from mushrooms to create a nice cavity. Dice stems and set aside. Generously coat inside and outside of each mushroom cap with olive oil and place open side up on a baking sheet or baking dish.

Sprinkle the insides of mushroom caps with some crushed and dried Italian seasoning (if you don't have Italian seasoning handy, one or more of a variety of dried herbs, such as marjoram, rosemary, sage, oregano, basil and savory may be used).

Remove casings from sausage. Heat 1 tablespoon of olive oil in a large skillet and heat until hot. Add garlic and sauté for 30 seconds to 1 minute. Stir in sausage, crushing with spoon into smaller pieces as you cook. Cook until sausage has no pink color remaining, then stir in chopped mushroom stems and sauté for 1 minute. Stir in green onions and sauté for one more minute. Add Worcestershire (if using) and salt and pepper to taste and stir to combine.

Spoon sausage mixture (using a small spoon) into each mushroom cap. Top each mushroom with the shredded cheese and broil 10-12 inches from heating unit for about 2 minutes, or just until cheese has begun to melt.
Other recipes you might like: