Green Chile Canapes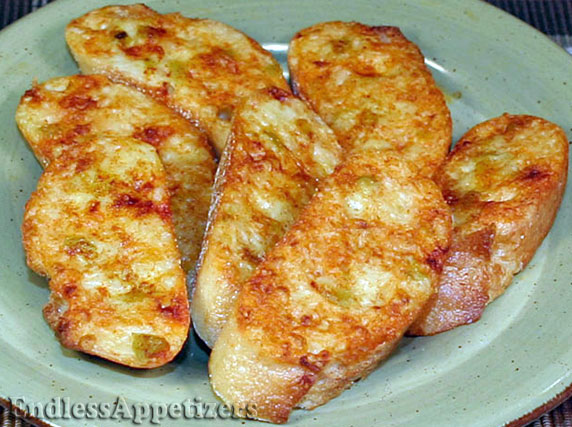 Yield:
Amount of servings depends on size of bread loaf. Makes 4-5 cups Green Chile. spread.
Cook Time:
About 2 minutes (broiling).
Tips:
You can make the spread in advance and refrigerate until ready to use.
Suggestion:
May be used as a side dish by using regular-sized bread loaves.
Green Chile Canapés are mini slices of bread made from long and slender loaves of French, sourdough, ciabatta or other similar crusty bread. These small bread bites (also referred to as "crostini")
are coated with a spread made with butter and mayonnaise, Monterey jack or cheddar cheese (or both), diced green chiles. They are then sprinkled with paprika for color and added flavor and broiled to a light golden color.
This recipe can also be served as a bread side dish, simply by using regular-sized loaves of French, sourdough or other bread.
The above photo shows Green Chile Canapés made with sourdough French bread, but you can use with virtually any other type of bread you prefer. Breads with a crusty exterior are recommended to give these canapés that nice 'crunch' when you bite into them, but if you prefer a softer crust or other type of bread such as wheat, whole grain, or any other bread, you can certainly choose that as well.
Ingredients
1/2 lb. (2 sticks) butter
1 4-oz. can diced green chiles
1 lb. jack or cheddar cheese (or 8 oz. each), shredded
1 cup mayonnaise
1/2 teaspoon garlic salt
1-3 dashes hot pepper sauce (to your preference)
French bread (long, slender loaves)
paprika
Directions
Using an electric mixer or in a medium mixing bowl using a handheld electric mixer, blend together butter, chiles, cheese, mayonnaise, garlic salt and hot pepper sauce. Spread on slices of French bread. Sprinkle lightly with paprika. Place under broiler until lightly toasted. Serve.
Other recipes you might like: