Pesto Stuffed Crab Balls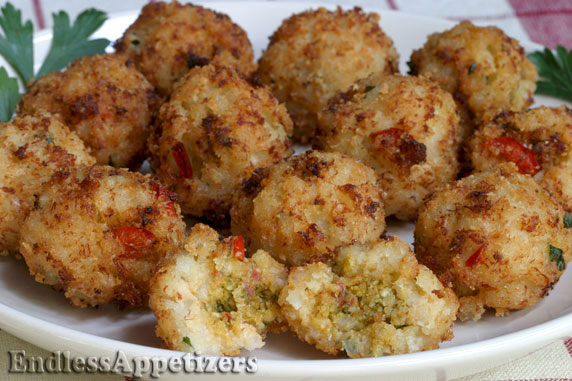 Yield:
About 45-55 crab balls
Cook Time:
About 5 minutes for sautéing onions and pepper, and 1-2 minutes per batch for frying crab balls.
Tips:
Crab balls may be formed in advance, stored in the refrigerator and cooked later when ready to serve. Crab cakes may also be prepared and cooked in advance and stored in refrigerator or freezer, then reheated in a 400° oven for about 10 minutes or until heated through and sizzling. (Place reheated crab balls on some paper towels to allow any oils from deep-frying to drain.)
Suggestion:
Delicious as appetizers or an anytime snack.
These crab balls are the appetizer version of the
Risotto Crab Cakes with Sun-Dried Tomato Pesto recipe
on
LoveThatFood.com
with some minor changes. This crab appetizer recipe uses the same ingredients as the crab cakes, yet rather than forming the mixture into large cakes, it is formed into mini balls, while the sun-dried tomato and basil pesto is contained within the crab balls rather than being served on the side. The cooking method differs slightly as well.
Just like the Crab Cakes version, these Pesto-Filled Crab Balls begin with a light and delicious mixture of crab meat, risotto, sautéed diced red bell peppers and minced onion, panko crumbs, Dijon mustard, freshly squeezed lemon juice, mayonnaise and chopped parsley. This mixture is formed into small balls, then pressed into disk shapes. A small amount of pesto is placed in the center of the disks, and the mixture is wrapped up and around the pesto. The crab balls are rolled in panko (Japanese bread crumbs), then
deep fried for just 1-2 minutes until golden and cripsy.
Risotto is an Italian style rice that is traditionally cooked broth or water and other flavoring ingredients, resulting in a creamy consistency. In this case, the risotto is cooked as you would cook other types of rice, and simply used as a filler that helps hold the crab mixture together, while adding tender texture and light flavor. If you have difficulty finding risotto in your grocery store, try asking your grocer where they stock their risotto; or you might want to purchase the risotto that comes in boxes with seasoning pouches (near other flavored rices such as Rice-A-Roni), then simply omit the seasoning while cooking and drain off any excess water after the risotto has cooked.
The tangy and full-flavored sun-dried tomato pesto sauce is basically a variation of traditional pesto with some sun-dried tomatoes, red pepper flakes and freshly squeezed lemon juice added for color, flavor and added tanginess, and would frankly also be delicious with pasta, sandwiches, fish, omelettes and almost anything else you can think of!
The beauty of these crab appetizers is that you can prepare the mixture in advance and store it in the refrigerator until you're ready to make them. Or - if you'd like to prepare them and deep fry them then refrigerate or freeze them until you're ready to serve your guests, simply reheat them in a 400° oven for about 10 minutes or until they are heated through and sizzling (be sure to let them rest on some stacked paper towels after baking for a minute or so). Of course, any leftovers can be stored and reheated the same way. These crab appetizers also make terrific quick and easy snacks!
Ingredients
Pesto



1/2 cup pine nuts (or 1 2-oz. bag)
2 oz. fresh basil leaves (1-2 bunches)
1/2 teaspoon salt
1/2 teaspoon red pepper flakes
1/4 cup olive oil (or more as needed for desired consistency)
2 tablespoons chopped sun-dried tomatoes (dry or oil-packed)
2 tablespoons freshly squeezed lemon juice
1/2 cup grated Parmesan cheese



Crab Balls

2 tablespoons minced onion
1/2 cup diced red bell pepper
4 tablespoons olive oil, plus more for frying crab cakes
2 cups prepared risotto, cooled
2 cups panko, plus more for coating
4 teaspoons Dijon mustard (1 tablespoon plus 1 teaspoon)
2 tablespoons freshly squeezed lemon juice
2 tablespoons chopped parsley
1/2 cup mayonnaise
1/2 teaspoon salt
1 lb. fresh crab meat (or 3 6-oz. cans, drained)
Directions
Pesto
Combine all ingredients except olive oil in a food processor and process to a coarse paste. Through the top opening of the food processor, add the olive oil while continuing to process. Add more olive oil (1 tablespoon at a time) if a thinner consistency is desired.
Crab Balls
Sauté onion and bell pepper in 1/4 cup of oil over medium heat until soft but not browned. Remove from heat.
In a large mixing bowl, combine sautéed onions and peppers, risotto, panko, Dijon mustard, lemon juice, parsley, mayonnaise and salt. Gently fold in crab just until blended.
Place panko crumbs in a shallow bowl near a work area. Scoop 1 tablespoon of mixture and form into a ball by gently squeezing (rolling in your palms is not recommended because it will likely cause the mixture to break up). Flatten ball to about a 2-inch in diameter disk shape. Place 1/2 teaspoon of pesto in center of the disk, then carefully fold up disk around pesto, gently squeezing and forming into a ball. (Tip: Squeeze gaps together with fingers to close, and press any oozing pesto back inside ball as needed.) Roll ball in panko to evenly coat and transfer to a tray or plate and place near deep fryer (or stove top if you will be cooking them in a saucepan). Repeat this process until entire mixture has been used up.
Heat to 375° enough oil in a deep fryer or saucepan to cover crab balls (oil level should be at least 3/4-inch higher than tops of balls to allow balls to move around while cooking). Cook crab balls in batches following this method: Gently lower a few crab balls into hot oil and allow to cook for 1-2 minutes, or until balls appear golden and crispy. (Note: Only cook as many crab balls that will comfortably fit in deep fryer or saucepan, allowing some room for them to move while cooking.) Using a slotted spoon or other slotted utensil, carefully remove cooked crab balls and place on some stacked paper towels arranged on a plate or tray. Continue cooking crab balls in batches.
Serve immediately. (Alternatively, crab balls can be prepared and/or cooked in advance and served later. See "Tips" or recipe description above for details.)
Other recipes you might like: