Pork Dumplings with Soy Mustard Vinaigrette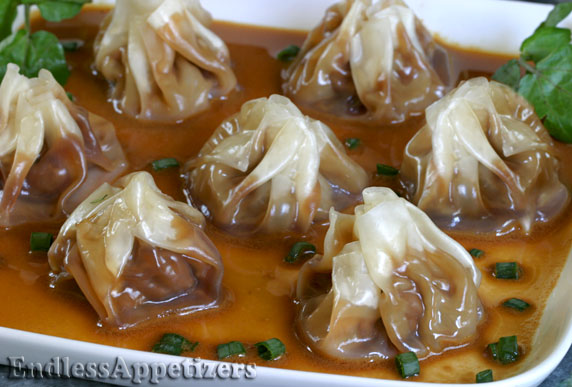 Yield:
20-40 dumplings, depending on filling amount / 2 cups of Soy Mustard Vinaigrette
Cook Time:
5 minutes per batch
Tips:
A
bamboo steamer
or stainless steel steamer may be used. Dumplings may be boiled in water (though steaming method is recommended). Placing parchment paper cut to fit the bottoms of each steamer section, then punctured with multiple holes (to allow steam to pass through) will prevent the shumai from sticking to the steamer.
Suggestion:
Serve shumai (dumplings) on a tray or plate with raised edges over the Soy Mustard Vinaigrette, or serve Soy Mustard Vinaigrette on the side for dipping. (Note: Dumplings will taste sweeter without the Vinaigrette.)
This pork dumpling recipe (also often referred to as shumai, siu mai, shaomai or Chinese dumplings) is a fun and flavorful meat appetizer that appeals to all ages! Chinese dumplings are often served as dim sum, which is a style of Cantonese food prepared as small bite-sized or individual portions, served in small steamer baskets or on small plates. This dumpling recipe features wonton skins that are filled a mixture of shredded pork, soy sauce, sugar, freshly grated ginger root and minced garlic. Teaspoonfuls of this pork mixture are spooned into each wonton skin, and the skins are cupped around the pork mixture, then twisted and closed at the top. The shumai (or dumplings) are then placed in a
bamboo steamer
(or other similar steamer) and steamed over a small amount
of water for just 5 minutes. (Note: The dumplings can also be boiled in water, though steaming the dumplings will help to maintain their shape and appearance and is recommended.) The wontons will become soft, moist and tender, and the pork mixture will fully cook. The dumplings are then placed on a platter or plate over a shallow bed of the Soy Mustard Vinaigrette, giving each pork dumpling the perfect tangy flavor boost! Without the Soy Mustard Vinaigrette, these pork dumplings have a slightly sweet and savory flavor that will likely be enjoyed by kids, though the vinaigrette truly creates the perfect flavor balance of sweet, savory and tangy, as well as adding some welcomed moisture. Making the vinaigrette is a simply a matter of blending some soy sauce, rice vinegar and dry ground mustard. The vinaigrette is then poured over the bottom of the serving tray or plate, and the dumplings are simply placed right on top of the tangy sauce. The wontons skins are not very porous, so the perfect amount of vinaigrette will coat each dumpling to bring that perfect balance of flavors. (Wonton skins can be usually found in one of the refrierated sections of your grocery store.) This pork dumpling recipe will produce plenty of shumai, and will definitely become a conversation piece at your event, as they quickly disappear!
Ingredients
Soy Mustard Vinaigrette

1/2 cup dry mustard
1 cup rice vinegar
1 cup soy sauce



Pork Shumai

1 lb. pork shoulder (or pork butt)
1 cup soy sauce
1/2 cup sugar
2 tablespoons grated ginger root
1 tablespoon grated garlic
1 package wonton skins
Soy Mustard Vinaigrette (recipe follows)
Directions
Soy Mustard Vinaigrette
Place mustard in a bowl. Dilute with a small amount of rice vinegar to form into paste. Add the remaining rice vinegar and soy sauce and slowly whisk to combine. Allow to sit for 1 hour to blend flavors before using.
Pork Shumai
Trim fat off of pork, then cut into 1 to 1 1/2-inch cubes and place in a
food processor
. Process the pork using the pulse mode until pork is evenly shredded (about 15-30 seconds). Transfer shredded pork to a
mixing bowl
and add soy sauce, sugar, ginger and garlic. Stir or mix with hands until thoroughly combined.
If desired, cut corners off of wonton skins to create circles (this will eliminate excess wonton skin from tops of wrapped dumplings, though is not mandatory). Place about 1 teaspoon of the mixture in the center of each wonton skin, then place filled wonton skin into the palm of one hand. Cup your hand to help bring up edges of wonton skin around pork mixture, while using your other hand to help bring all edges up and around the pork. Bring top edges together and twist to seal the mixture inside, using a little water to adhere the folds of the wonton skin if necessary. (Tip: Keep a small bowl of water near preparation area.)
Cut pieces of parchment paper to fit the bottoms of a bamboo steamer (parchment paper will help prevent dumplings from sticking to bottoms of steamer.) Punch several small holes through the parchment paper to allow steam to pass through.
Place dumplings on parchment paper in steamer at least 1/2 inch apart. Put sections together and cover with steamer top. Bring about 1/2 inch of water to a boil in a wok or large pot. Carefully place steamer in boiling water and steam for 5 minutes, adding a little water as necessary if water almost boils away. Once cooked, remove steamer from wok or pot and turn off heat.
Pour enough of the Soy Mustard Vinaigrette to cover the bottom of a plate or tray with raised edges. Gently lift dumplings, one at a time from parchment paper and arrange on top of vinaigrette. If desired, sprinkle with chopped chives and garnish with watercress.
Other recipes you might like: