Pork Pot Stickers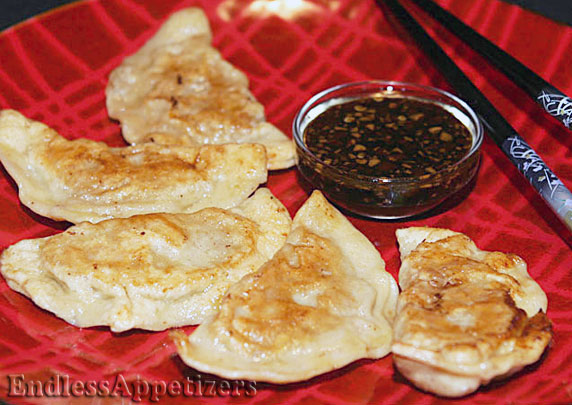 Yield:
About 25 pot stickers
Cook Time:
10 minutes per batch of pot stickers
Tips:
Add a little water during frying process if necessary. You can prepare and freeze these potstickers, then cook them at a later date.
Pork Pot Stickers with Dipping Sauce, also referred to as Jiaozi or Chinese dumplings, is a fun and tasty Asian dish that is wonderful served as a main dish or as an appetizer. This pot sticker recipe
consists of a delicious mixture of ground pork and vegetables wrapped up in small pasta shapes and is served with a delicious dipping sauce that adds just the right flavor and boost for this Asian dish.
Pot stickers traditionally consist of circle pasta shapes that are filled with meat or vegetables (or both), then folded and crimped or pinched at the edges to seal. These little dumplings are then cooked by boiling, steaming or frying.
Pot stickers are versatile, in that they can be served as a starter dish, side dish, main course or as an appetizer. Photo above shows this pot sticker recipe made with homemade pasta using a Pasta Machine, but you can purchase pot sticker wrappers (also known as gyoza wrappers) in almost any Asian market. For convenience, you can prepare these pot stickers in advance and stick them in the freezer until you're ready to cook them.
Ingredients
Pot Sticker Dipping Sauce

3 cloves garlic, minced
1 tablespoon fresh ginger, minced
2 tablespoons sesame oil
1/3 cup soy sauce
1/4 cup rice vinegar
1/4 teaspoon ground black pepper
1/4 teaspoon crushed red pepper
2 tablespoons sugar



Pot Sticker Filling

1/2 lb. ground pork
1 1/2 tablespoons soy sauce
3/4 teaspoon salt, divided
1/4 teaspoon ground black pepper
1/4 teaspoon sugar
1/4 cup celery, finely diced
1/4 cup water chestnuts, finely diced
1 tablespoon fresh gingerroot, finely diced
1/2 cup green onions, finely diced
1 cup napa (Chinese) cabbage, finely chopped
2 tablespoons cornstarch
1/4 cup white cooking wine
1 tablespoon sesame oil
package of gyoza wrappers (found in an Asian markets - or you can make your own)
2 tablespoons olive oil
2/3 cups water
Directions
Pot Sticker Dipping Sauce
Combine all ingredients in small sauce pan or microwaveable bowl. Just before you are ready to serve the pot stickers, heat dipping sauce until warm (over low-medium heat on stove, or about 20-30 seconds in microwave). (Note: Dipping sauce may be stored in refrigerator or freezer. Simply reheat when ready to use again.)
Pork Mixture
Rinse and drain the cabbage (wipe dry with a cloth or paper towel if necessary). Finely chop cabbage and place in small mixing bowl. Sprinkle with 1/4 teaspoon of the salt and toss to blend. Set aside.
In another small mixing bowl, combine corn starch and white wine. Whisk until dissolved.
In separate large mixing bowl, combine ground pork, corn starch and wine mixture, soy sauce, the remaining 1/2 teaspoon of salt, sugar, black pepper, gingerroot and sesame oil. Pick up cabbage that has been mixed with salt, squeezing out excess moisture, and add to pork mixture. Mix all ingredients until well blended. Using your hands works best and fastest, but you may also use a fork or spoon.
Pot Sticker Preparation
Lightly sprinkle some flour on your work surface. Place a wrapper down on the flour, and fill with about 2 teaspoons of pot sticker filling mixture in center of wrapper. Wet the edges of the wrapper with water and fold in half, pressing the folded edges together so that they stick. For a prettier look, crimp the entire length of the curved edge with your fingers to form a pattern (like flower peddles). Set on a baking sheet or other flat surface sprinkled with flour (to prevent sticking to the sheet). Once you get the hang of this procedure and are able to move faster, you can lay down four wrappers on your work surface at a time.
Cooking the Pot Stickers
Heat the 2 tablespoons of oil in a large skillet and place the pot stickers (on their sides) in the skillet. Pour 2/3 cups of water over all the pot stickers and turn heat up to medium-high. Cook, partially covered, for about 8 minutes. Remove skillet cover and allow pot stickers to continue to cook as water evaporates. (This is when the pot stickers will begin to brown.) Continue cooking until pot stickers become lightly browned. (Note: If you like a nicely browned texture, to avoid burning the pot stickers, you can add small amounts of water (1-2 tablespoons at a time) in various areas of the skillet to preserve a little moisture while the pot stickers are browning. You can serve with only one side browned, or turn pot stickers over and brown both sides, depending on your preference.
Heat Pot Sticker Dipping Sauce and serve with pot stickers.
Other recipes you might like: