Cherry Meatball Sliders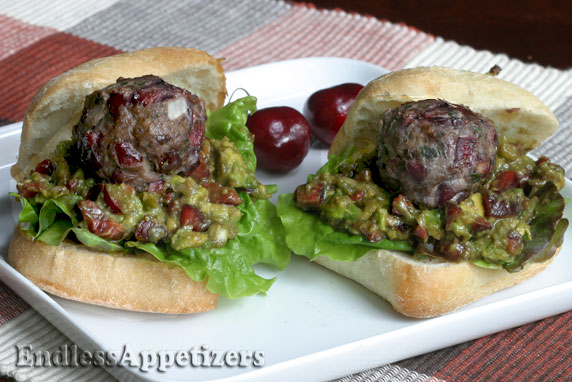 Tips:
Pitted prune plums may be used instead of cherries, if desired. Meatball mixture may be slightly flattened into patty forms, if desired. Red leaf lettuce, Romaine lettuce or Iceberg lettuce may be used. (Above photo shows sandwiches served with red leaf lettuce.)
Suggestion:
Perfect served as healthy appetizers for parties, tailgate food for sporting events, or for lunch or dinner.
When we think of meatball sandwich recipes, the first thing that likely comes to mind is a submarine sandwich (using a French roll) filled with traditional or Italian meatballs, topped with some sort of marinara sauce and melted mozzarella cheese. This popular type of meatball sandwich is indeed very tasty and makes great comfort food; but if you're interested in exploring a new way to experience meatball sandwiches, then these Cherry Meatball Sliders are the perfect place to start!
This easy meatball sandwich recipe is great served as healthy appetizers for parties or tailgate food for sporting events, but can also be served as a lunch or a light dinner anytime. While sliders (also sometimes called mini sandwiches) often refer to miniature versions of hamburgers served on little buns or dinner rolls, they are
also often made with chicken, pork, fish and other assorted ingredients, such as
Tilapia Sliders
. Sliders are the perfect snack food to serve at parties, and always create an element of fun and elegance, all rolled into one!
The meatballs served with these sliders have a delightfully fresh flavor, thanks to the addition of some finely chopped fresh sweet cherries. A little Dijon mustard is added to the meatball mixture to counter the mild sweetness of the cherries, but I assure you, the touch of sweetness is what makes these meatball sliders so fabulous! In addition to the cherries incorporated into the meatball mixture, a colorful and delicious Cherry and Avocado Salsa placed on top of one or two small lettuce leaves becomes the key ingredient that gives these mini meatball sandwiches the perfect final touch!
The above photo shows Cherry Meatball Sliders served on Ciabatta rolls, though any small dinner rolls will do. (Note: You can serve these sliders on untoasted or lightly toasted rolls using a broiler.) If preferred, the meatballs can also be made into small patties, simply by gently pressing them down to slightly flatten them after they've been rolled into meatball shapes. Lastly, if you are lucky enough to have any leftovers, you can easily heat them up simply by cutting the meatballs in half (no need to cut them in half if you've shaped them more like patties) and broiling them (along with the rolls, if you like) for a few minutes until they're nice and warm.
Ingredients
Meatballs

1 lb. lean ground beef
1 cup pitted and chopped fresh sweet cherries
1 egg, lightly beaten
1/4 cup chopped onion
2 tablespoons chopped fresh parsley
1 tablespoon Dijon mustard
3/4 teaspoon garlic salt
1/2 teaspoon ground pepper


16 small lettuce leaves
16 dinner rolls, sliced in half



Cherry Avocado Salsa

1 cup pitted and chopped fresh sweet cherries
1 ripe avocado, pitted, peeled and coarsley mashed
1/4 cup diced Anaheim chile pepper
2 tablespoons chopped green onions
1 tablespoon balsamic vinegar
1/2 teaspoon garlic salt
1/4 teaspoon ground black pepper
Directions
Meatballs
Preheat oven to 350°F.
In a medium
mixing bowl
, combine ground beef, cherries, egg, onion, parsley, mustard, garlic salt and pepper. Mix until thoroughly combined. Form into 16 meatballs, then place on a rack in a broiler pan. (Note: Mixing with hands is the easiest and most thorough method. If desired, use
disposable gloves
) Bake for about 20 minutes, or until done, turning the meatballs after 10 minutes of baking.
Cherry Avocado Salsa
Combine all ingredients in a
mixing bowl
and stir briefly just enough to blend. (Note: Over-stirring may cause some of the green color in the avocado to turn dark from the cherry juices.)
Assembly
Gently toss hot meatballs with 1/2 cup of salsa, if desired (this is optional). Place 1 small lettuce leaf on each roll, top lettuce with some Cherry Avocado Salsa, then place one meatball on top of salsa. Serve remaining salsa on the side, if desired.
Other recipes you might like: