Parmesan Cheese Sticks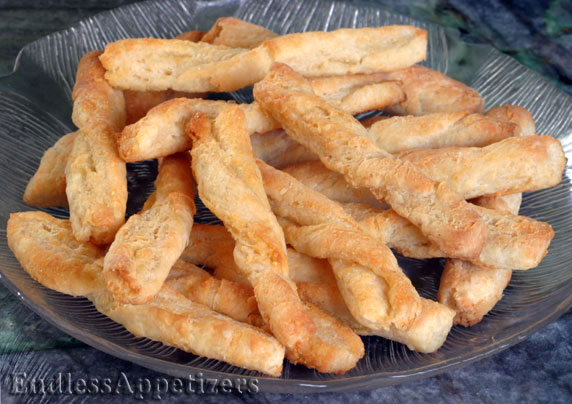 Yield:
About 90 cheese sticks
Tips:
Cheese sticks may be twisted 1-3 times
Suggestion:
Perfect served as party appetizers or for anytime snacking.
When it comes to coming up with some great kids' birthday party ideas or any type of kids' event planning for that matter, you can't go wrong with finger foods and easy snacks. Simple finger foods always seem to bring an element of fun to a party, and always make everything easier for everyone, from planning to serving and even clean-up. Party food that can safely remain at room temperature without the need for utensils always makes event planning a little easier, and kids always enjoy helping themselves to plentiful snacks without having to fuss with utensils, plates, dips, etc. This Parmesan Cheese Sticks recipe is a very kid-friendly appetizer
that will fit in to most any type of kids' event and is one that will appeal to all ages!
When we think of cheese sticks, the type of cheese sticks that likely come to mind are the kind of cheese sticks made with actual sticks of mozzarella cheese. The mozzarella cheese sticks are usually coated with some seasoned bread crumbs, then are deep fried or baked and sometimes served with a
marinara sauce
for dipping. Although mozzarella cheese sticks are certainly very popular as well as scrumptuous, these Parmesan Cheese Sticks are actually mini bread appetizers made with a dough that's filled with a generous amount of grated Parmesan cheese. Although this cheese sticks recipe makes a generous amount of cheese sticks, they will likely disappear quickly. Should you have any leftovers, however, these cheese sticks also make terrific afternoon snacks! Simply store the leftover cheese sticks in the refrigerator in an airtight container or sealed plastic bag. When you're ready to serve the cheese sticks again, heat them in a 350° F. oven for about 5-10 minutes, or just until they crisp up. (The refrigerator tends to soften the dough, so reheating the cheese sticks in the oven for a few minutes is the best way to crisp them back up. Just make sure to watch them closely so they don't burn!)
Ingredients
4 cups all-purpose flour
2 teaspoons baking powder
1 teapsoon salt
1 1/2 cups butter
2 egg yolks
2 cups milk
1 lb. grated Parmesan cheese (or Edam)
Directions
Preheat oven to 425° F.
I a medium
mixing bowl
, whisk together dry ingredients. Cut in butter using a
pastry blender
or 2 knives. Make a small well in the center, then add eggs and milk and stir with a fork until thoroughly blended.
Roll out with a rolling pin to a 1/4-inch thick square. Sprinkle one-half of the Parmesan cheese over one-half of the dough. Fold dough in half, then press edges together and fold again. Roll dough to 1/4-inch thick again. Sprinkle with remaining cheese and proceed as before. Cut into strips 1/4 inch x 5 inches long. Bake for 8 minutes or until cheese sticks turn light golden brown in color.
Other recipes you might like: