Bread and Pastry Appetizers
Sometimes the line drawn between breads and pastries can appear to be such a fine one, that it's difficult to decipher between the two. For that reason, you'll find both bread and pastry appetizers included on this page. If you're looking for appetizers that feature small slices of bread with assorted toppings, please visit
Crostini Appetizers
.
Generally, in terms of levening agents, breads are made using yeast or baking soda, while pastries are made using baking powder. Pastries tend to have a higher fat content, which gives them a more flaky and crumbly texture than bread.
Bread appetizers come in all sorts of shapes and sizes, can entertain an endless variety of flavors, and are always big crowd pleasers. Some examples of bread appetizer recipes
are crostini (mini slices of soft or crispy bread used for dipping and/or topping), puffs (soft and puffy bite-size appetizers, such as crab puffs, broccoli puffs and cheese puffs) breadsticks, pinwheels, calzones (pastries containing any variety of ingredients sometimes served with dipping sauces), croissants, turnovers, and cracker-style snacks that can be served as is or with dips (such as pita chips, baked crostini and flaky cheese triangles). Homemade Bread Appetizer recipes are almost always very easy to make, produce plenty, are much more economical than prepared bread appetizers in stores, and will allow you to tap into your creative side!
Pastry appetizers are traditionally made with a combination of flour, sugar, milk, butter, shortening, baking powder, and/or eggs, and have a fluffy and light (and sometimes crumbly) texture that make them incredibly versatile and delightfully delicious! They can be served in simple fashion, such as little breads like
croissants
, or puff pastries such as
Crab Puffs
or
Broccoli Puffs
. It definitely doesn't stop there, though. Pastry appetizers can be made with ingredients mixed into the dough, such as any variety of cheese, spices and herbs, or can be wrapped around meat or a mixture of ingredients, such as
Mini Calzones
and
Cheese and Sausage Croissant Bites
.
Whether you choose a bread or pastry appetizer recipe, one thing for certain - the ways in which both can be prepared is limitless, and they will always be a hit at gatherings!
Bread and Pastry Appetizer Recipes ▼
These fluffy
Pepperoni Cheese Twists
(also often referred to as pizza breadsticks or Italian breadsticks) are seasoned with garlic and stuffed with diced pepperoni, mozzarella and Parmesan cheese The dough is made from scratch (very easy!), and each piece is twisted and coated with melted butter and more Parmesan cheese. This tasty
breadstick recipe
is easy to make and cooks in only about 10 minutes.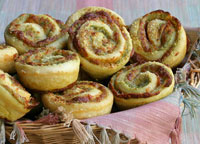 Pesto, Pepperoni and Cheese Pinwheels
are soft and puffy dough snacks filled with fresh pesto, six different types of Italian-style grated cheese and pepperoni slices. These pinwheel appetizers (also sometimes referred to as roll-ups or pepperoni rolls) have an attractive swirl design that captures all the delicious flavors, and make perfect appetizers or snacks, or are great served for lunch or dinner, much like pizza.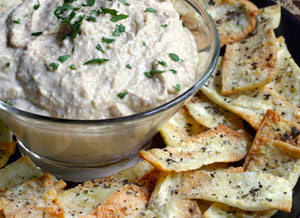 Making your own
homemade baked Pita Chips
is super easy. These crispy snacks are made from pita bread, giving the pita chips a healthy quality as well. Making these pita chips is as easy as brushing the pita rounds with olive oil, seasoning with garlic and herbs, then cutting into desired shapes and baking until light golden and crispy. Pita Chips go well with dips and cheeses (such as the hummus shown in photo), or on their own!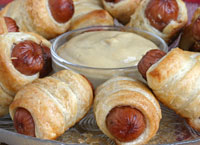 Sometimes the most simple of recipes can be the tastiest! These
Puff Pastry Sausage Bites
(often also referred to as Pigs in a Blanket) are made of mini cocktail weenies (often referred to as Little Smokies, Lil' Smokies or coctail sausages) wrapped in thin strips of puff pastry. The pastry wrapped cocktail weenies are then briefly baked until hot and lightly browned and served with a tasty and tangy Mustard Dipping Sauce.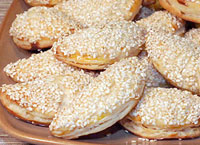 Sesame Cheddar Turnovers
are petite and flaky appetizers filled with seasoned cheddar cheese and a small amount of egg, and are topped with sesame seeds. The dough is made with a generous amount of cream cheese, giving these turnovers fabulous unexpected flavor and texture.
Sesame Cheddar Turnovers
can be served immediately after baking or made ahead of time. May be frozen and reheated later when ready to serve.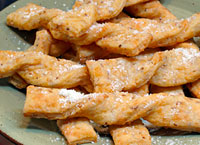 These
Sesame Cheese Twists
are made with a few simple ingredients - grated cheddar cheese, grated Parmesan cheese, toasted sesame seeds, a little chilled butter and some flour mixed with a little salt and a pinch of cayenne pepper. The beautiful thing about these breadsticks is how easy they are to whip up, how quickly they bake, and the fact that you can play around with the types of cheese and spices to give them your own flair.