Bread and Pastry Appetizers
Sometimes the line drawn between breads and pastries can appear to be such a fine one, that it's difficult to decipher between the two. For that reason, you'll find both bread and pastry appetizers included on this page. If you're looking for appetizers that feature small slices of bread with assorted toppings, please visit
Crostini Appetizers
.
Generally, in terms of levening agents, breads are made using yeast or baking soda, while pastries are made using baking powder. Pastries tend to have a higher fat content, which gives them a more flaky and crumbly texture than bread.
Bread appetizers come in all sorts of shapes and sizes, can entertain an endless variety of flavors, and are always big crowd pleasers. Some examples of bread appetizer recipes
are crostini (mini slices of soft or crispy bread used for dipping and/or topping), puffs (soft and puffy bite-size appetizers, such as crab puffs, broccoli puffs and cheese puffs) breadsticks, pinwheels, calzones (pastries containing any variety of ingredients sometimes served with dipping sauces), croissants, turnovers, and cracker-style snacks that can be served as is or with dips (such as pita chips, baked crostini and flaky cheese triangles). Homemade Bread Appetizer recipes are almost always very easy to make, produce plenty, are much more economical than prepared bread appetizers in stores, and will allow you to tap into your creative side!
Pastry appetizers are traditionally made with a combination of flour, sugar, milk, butter, shortening, baking powder, and/or eggs, and have a fluffy and light (and sometimes crumbly) texture that make them incredibly versatile and delightfully delicious! They can be served in simple fashion, such as little breads like
croissants
, or puff pastries such as
Crab Puffs
or
Broccoli Puffs
. It definitely doesn't stop there, though. Pastry appetizers can be made with ingredients mixed into the dough, such as any variety of cheese, spices and herbs, or can be wrapped around meat or a mixture of ingredients, such as
Mini Calzones
and
Cheese and Sausage Croissant Bites
.
Whether you choose a bread or pastry appetizer recipe, one thing for certain - the ways in which both can be prepared is limitless, and they will always be a hit at gatherings!
Bread and Pastry Appetizer Recipes ▼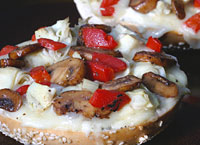 These
Cheese and Vegetable Pizza Bagels
begin with your choice of bagels. A tasty cream cheese spread seasoned with fresh minced garlic and herbs is spread on the bagel slices. Shredded mozzarella cheese. along with sliced mushrooms that have been sautéed in seasoned butter and balsamic vinegar, bite-size pieces of artichoke hearts and roasted red bell peppers are arranged on top, and the pizza bagels are briefly baked.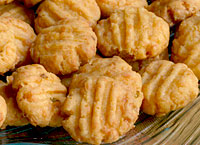 These little pop-in-your-mouth cheese snacks have a hearty yet flaky texture with the distinct flavor of cheddar cheese, and an outer crust with a light crispy crunch.
Cheese Coins
are made with flour, butter, your choice of cheddar or Monterey jack cheese, along with some diced green chiles, pimientos and seasonings. These little cheese appetizers can be served warm from the oven, at room temperature, or cold from the fridge.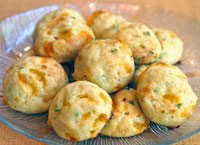 This
Crab Puffs appetizer recipe
produces light and puffy balls that give a touch of elegance and subtle sophisticated flavor to any event. This
seafood appetizer
is very easy to make and makes plenty! Flour, butter, cheddar cheese, green onions and the right flavorings perfectly compliment the crabmeat.
Crab puffs
can be made in advance and baked later. These crab puffs plump up into soft, light and fluffy balls with subtle flavor.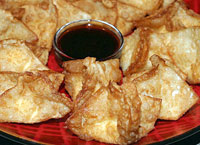 Cream Cheese Wontons
are crispy on the outside with a delightful whipped cream cheese filling inside made with finely minced green onions and water chestnuts. They are served with a mild and tangy soy-based dipping sauce (included with recipe) that truly compliments these appetizers and is unbelievably easy to prepare. This wonton recipe makes 40-45 appetizers, and is a great recipe with which the kids can lend a helping hand!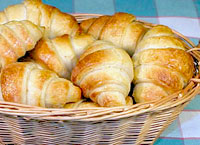 These crescent-shaped
Croissants
are light, flaky and buttery, and are wonderful fresh from the oven, toasted or served at room temperature. These French pastries (also known as crescents or crescent rolls) can be made in any size and can be served in a variety of ways. Small croissants make wonderful appetizers, medium-sized croissants are great as a side dish for any meal, while large sizes can be used for sandwiches.
In a very short time and with just a few ingredients, you can create these fun and flavor-packed
cheese pastry appetizers
! These shiny golden petite triangles are made with a combination of flour, a dash of salt and cayenne pepper (giving these snacks the perfect added kick), shredded cheddar cheese and chilled butter. You can cut these little
pastry puffs
into any shape you like, and can subsitute other cheeses for the cheddar.