Bread Appetizers
Sometimes the line drawn between breads and pastries can appear to be such a fine one, that it's difficult to decipher between the two. For that reason, you'll find both bread and pastry appetizers included on this page. If you're looking for appetizers that feature small slices of bread with assorted toppings, please visit
Crostini Appetizers
.
Generally, in terms of levening agents, breads are made using yeast or baking soda, while pastries are made using baking powder. Pastries tend to have a higher fat content, which gives them a more flaky and crumbly texture than bread.
Bread appetizers come in all sorts of shapes and sizes, can entertain an endless variety of flavors, and are always big crowd pleasers. Some examples of bread appetizer recipes
are crostini (mini slices of soft or crispy bread used for dipping and/or topping), puffs (soft and puffy bite-size appetizers, such as crab puffs, broccoli puffs and cheese puffs) breadsticks, pinwheels, calzones (pastries containing any variety of ingredients sometimes served with dipping sauces), croissants, turnovers, and cracker-style snacks that can be served as is or with dips (such as pita chips, baked crostini and flaky cheese triangles). Homemade Bread Appetizer recipes are almost always very easy to make, produce plenty, are much more economical than prepared bread appetizers in stores, and will allow you to tap into your creative side!
Pastry appetizers are traditionally made with a combination of flour, sugar, milk, butter, shortening, baking powder, and/or eggs, and have a fluffy and light (and sometimes crumbly) texture that make them incredibly versatile and delightfully delicious! They can be served in simple fashion, such as little breads like
croissants
, or puff pastries such as
Crab Puffs
or
Broccoli Puffs
. It definitely doesn't stop there, though. Pastry appetizers can be made with ingredients mixed into the dough, such as any variety of cheese, spices and herbs, or can be wrapped around meat or a mixture of ingredients, such as
Mini Calzones
and
Cheese and Sausage Croissant Bites
.
Whether you choose a bread or pastry appetizer recipe, one thing for certain - the ways in which both can be prepared is limitless, and they will always be a hit at gatherings!
Bread and Pastry Appetizer Recipes ▼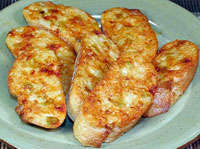 Green Chile Canapés
are mini slices of bread made from long and slender loaves of French, sourdough, ciabatta or other similar crusty bread. These small bread bites (also referred to as "crostini") are coated with a spread made with butter and mayonnaise, Monterey jack or cheddar cheese (or both), diced green chiles. They are then sprinkled with paprika for color and added flavor and broiled to a light golden color.
If you're looking for fun and easy healthy appetizers for your event, you can't go wrong with pita pizza! This
Grilled Vegetable and Hummus Pita Pizzas recipe
features grilled pita bread rounds slathered with hummus, then topped with briefly marinated grilled vegetables. The vegetables can be grilled on an indoor grill or sautèed in a skillet. Make this appetizer using your own favorite style pita bread and hummus flavor!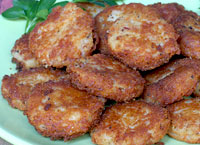 This easy
Ham and Cheese Potato Cakes appetizer recipe
features mashed potatoes combined with ground (or shredded) ham, shredded cheddar cheese, a little prepared mustard and some salt and pepper to taste. For an added kick, a dash of cayenne pepper and/or some minced or finely diced green onions can also be added for more flavor and texture, if desired. These little potato appetizers are also great served with dips!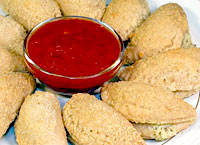 Mini Calzones
are petite appetizers made with your choice of homemade bread dough or pre-packaged dough. These little crescent shapes are stuffed with a mixture of crumbled Italian sausage and a combination of ricotta, mozzarella and Parmesan cheeses. They are then rolled in melted butter, then rolled again in grated Parmesan cheese, and baked in just 15 minutes until golden. Delicious served with
marinara
.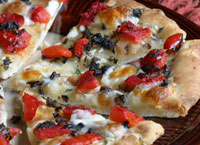 Whether you like to call them flabread appetizers, flatbread pizza or simply flatbread, this
Mozzarella and Rosted Red Pepper Flatbread
recipe provides color, flavor and fun to any event, and is incredibly easy to make! This bread appetizer recipe features flatbread brushed with olive oil, then topped with minced garlic, mozzarella, diced roasted red peppers and chopped black olives. May also be made with feta or goat cheese.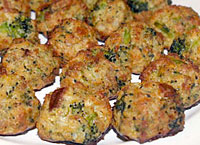 Parmesan Broccoli Balls
are fun vegetable appetizers with fantastic taste, and are loved by all ages. They have a slightly crispy outer shell, and are chewy and cheesy on the inside, with the added subtle flavor of broccoli and a wonderful blend of other ingredients.
Parmesan Broccoli Balls
are are made with a simple combination of chopped broccoli flowerets, prepared stuffing mix, Parmesan cheese, onions and egg.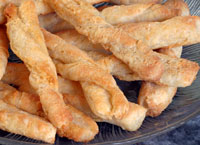 Parmesan Cheese Sticks
appeal to all ages and make a perfect finger food snack for parties, holidays or any other type of event. These easy and tasty cheese appetizers are similar to mini breadsticks, featuring a soft dough that is filled with grated parmesan cheese. The dough is rolled out and cut into small strips, then the strips are twisted once or twice and baked until fluffy, lightly crisp and golden. This recipe makes plenty!