Cheese Appetizers
Cheese Appetizers can be served in many forms, using any number of cheese types. Believe it or not, there are as many as 500 types of cheese, ranging from soft to hard, depending on their moisture content. The most obvious cheese appetizer requiring minimal preparation (and a great make ahead appetizer) would likely be slices or cubes of cheese served on their own with
toothpicks
, or with avariety of sliced or cubed meat and/or assorted crackers. Other easy
appetizer ideas using cheese might consist of grated cheese and one or more types of soft cheese, such as cream cheese, goat cheese or brie cheese, combined with various herbs and spices, then forming the cheese mixture into cheese logs or cheese balls, such as with
Chili Cheese Balls
. While cream cheese appetizers, goat cheese appetizers and brie cheese appetizers are often a popular choice when it comes to considering party food ideas, there are plenty of other soft cheeses that can be used in multiple ways, such as
Dips
and
Bruschetta or Crostini
. Soft cheese is fabulous when used in dips, giving the dips a creamy consistency with wonderful flavor, such as with
Hot Artichoke Crab Dip
,
Chili Con Queso
,
Jalapeno Artichoke Dip
and
Turkey Artichoke Cheese Dip
. Cheese can also be mixed in with pastry appetizers, such as with
Sesame Cheddar Turnovers
or
Sesame Cheese Twists
. Cheese can also be used as a filling ingredient for appetizers, often combined with other filling ingredients, as with
Cream Cheese Wontons
and
Cheese and Sausage Wonton Flowers
. The bottom line is, when it comes to cheese appetizer ideas, the possibilities are endless and as always, very delicious!
Cheese Appetizer Recipes ▼
These
Cranberry and Goat Cheese Canapés
are as simple as can be, yet deliver delicious fresh flavor that both adults and kids will love. Also, as you can see by the red and green colors provided by the dried cranberries and fresh rosemary, these canapés are the perfect easy appetizer to serve during the holidays as Christmas appetizers (though they're delicious all-year-long!).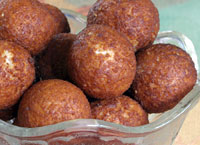 These
Cream Cheese Balls
are quickly fried in oil, giving them golden color with a warm and delicious interior and a crispy, crunchy exterior. These cheese ball appetizers are made with bread crumbs, which give the cream cheese a nice texture as well as a crispy outer crunch when fried. They taste great warm, moments after they've been fried, but also stay nice and crispy and taste just as great when cooled to room temperature!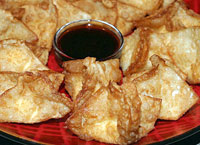 Cream Cheese Wontons
are crispy on the outside with a delightful whipped cream cheese filling inside made with finely minced green onions and water chestnuts. They are served with a mild and tangy soy-based dipping sauce (included with recipe) that truly compliments these appetizers and is unbelievably easy to prepare. This wonton recipe makes 40-45 appetizers, and is a great recipe with which the kids can lend a helping hand!
Feta and Goat Cheese Bruschetta with Marmalade
has a mildly sweet and savory flavor, and is great served for parties and holidays. This tasty bruschetta is made with a combination of goat cheese and feta cheese, combined with a marmalade made with honey, apricot preserves, balsamic vinegar and fresh thyme. This bruschetta recipe can be made with toasted or untoasted baguette or other bread slices.
If you'd like to try a new and uniquely-tasting appetizer that has great eye appeal and a combination of interesting textures, these
Ginger Pecan Cream Cheese Grapes
are a great place to start! Seedless grapes are coated with cream cheese that has been combined with some finely chopped crystallized ginger, then the grapes are rolled in finely chopped toasted pecans and chilled.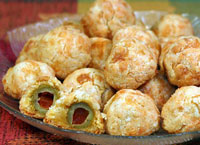 Olive Cheese Balls
is a fun appetizer recipe that is easy to prepare and cooks in just 15 minutes. The dough is made with a simple mixture of cheddar cheese, Parmesan cheese, butter and flour, and offers a wonderful complimentary flavor and crunch to green olives. These appetizers are tasty when served warm, at room temperature, or cold right from the fridge! Delicious served with
Ranch Dip
or
Zesty Ranch Dip
!