Cheese Appetizers
Cheese Appetizers can be served in many forms, using any number of cheese types. Believe it or not, there are as many as 500 types of cheese, ranging from soft to hard, depending on their moisture content. The most obvious cheese appetizer requiring minimal preparation (and a great make ahead appetizer) would likely be slices or cubes of cheese served on their own with
toothpicks
, or with avariety of sliced or cubed meat and/or assorted crackers. Other easy
appetizer ideas using cheese might consist of grated cheese and one or more types of soft cheese, such as cream cheese, goat cheese or brie cheese, combined with various herbs and spices, then forming the cheese mixture into cheese logs or cheese balls, such as with
Chili Cheese Balls
. While cream cheese appetizers, goat cheese appetizers and brie cheese appetizers are often a popular choice when it comes to considering party food ideas, there are plenty of other soft cheeses that can be used in multiple ways, such as
Dips
and
Bruschetta or Crostini
. Soft cheese is fabulous when used in dips, giving the dips a creamy consistency with wonderful flavor, such as with
Hot Artichoke Crab Dip
,
Chili Con Queso
,
Jalapeno Artichoke Dip
and
Turkey Artichoke Cheese Dip
. Cheese can also be mixed in with pastry appetizers, such as with
Sesame Cheddar Turnovers
or
Sesame Cheese Twists
. Cheese can also be used as a filling ingredient for appetizers, often combined with other filling ingredients, as with
Cream Cheese Wontons
and
Cheese and Sausage Wonton Flowers
. The bottom line is, when it comes to cheese appetizer ideas, the possibilities are endless and as always, very delicious!
Cheese Appetizer Recipes ▼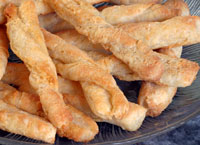 Parmesan Cheese Sticks
appeal to all ages and make a perfect finger food snack for parties, holidays or any other type of event. These easy and tasty cheese appetizers are similar to mini breadsticks, featuring a soft dough that is filled with grated parmesan cheese. The dough is rolled out and cut into small strips, then the strips are twisted once or twice and baked until fluffy, lightly crisp and golden. This recipe makes plenty!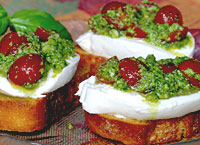 Looking for new delicious appetizer ideas? This crostini appetizer recipe is healthy and delicious, is loaded with vibrant color and presents itself with true elegance.
Pesto Cheese Crostini with Cherry Tomatoes
features slices of baguette that have been brushed with olive oil and baked until lightly crispy. These baked crostini are topped with Burrata (or other cheese of your choice) and a delicious basil pesto and cherry tomato mixture.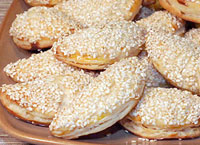 Sesame Cheddar Turnovers
are petite and flaky appetizers filled with seasoned cheddar cheese and a small amount of egg, and are topped with sesame seeds. The dough is made with a generous amount of cream cheese, giving these turnovers fabulous unexpected flavor and texture.
Sesame Cheddar Turnovers
can be served immediately after baking or made ahead of time. May be frozen and reheated later when ready to serve.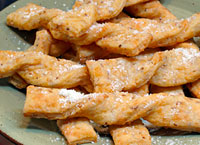 The beautiful thing about
homemade cheese breadsticks
is that they are easy to make, bake quickly and usually produce a large batch.
Sesame Cheese Twists
are made with just a few simple ingredients - grated cheddar cheese, grated Parmesan cheese, toasted sesame seeds, a little chilled butter and some flour mixed with a little salt and a pinch of cayenne pepper. These
twists
are also great with dip!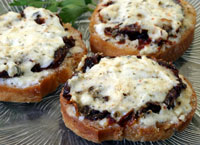 This tasty
crostini recipe
features thin slices of bread that are brushed with olive oil and baked until golden and crispy. The small toasts are then topped with a mixture of three cheeses combined with minced garlic. Sun-dried tomatoes are placed on top of the cheese mixture, then another layer of cheese mixture is placed on top of the sun-dried tomatoes. The crostini are returned to the oven to briefly bake again until melted.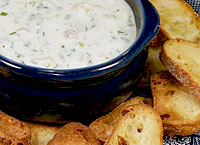 This creamy and cheesy appetizer is made with smoked sliced turkey, marinated artichoke hearts, sautéed diced green onions, and a combination of Parmesan and cream cheese, and is heated briefly on the stove and served warm (though is still delicious as it cools).
Turkey Artichoke Cheese Dip
is a great dip to serve anytime, or during the holiday season, when turkey leftovers are plentiful. This
dip
is wonderful with Baked Crostini.