Meat Appetizers
Meat appetizers come in all shapes and sizes and can be made with any They can be made using ground meats,
thinly sliced deli meat or prepared meats, such as smoky link sausages, pepperoni, salami, etc. Perhaps one of the most popular form of meat appetizers is
meatballs
, because they can be using all sorts of ingredients as well as a large variety of sauces. Meat appetizers can feature simple small bite sizes of meat, such as cocktail weenies or chicken (breaded or not) served with dipping sauces. Some other examples of meat appetizers are pastries or wontons stuffed with meat or a mixture of meat and other ingredients, such as
Mini Calzones
,
Cheese and Sausage Croissant Bites
and
Cheese and Sausage Wonton Flowers
. Meat appetizers are especially great served at events where no dinner will be served; orl if dinner will be served, will be served quite late, leaving the guests hungry.
Meat Appetizer Recipes ▼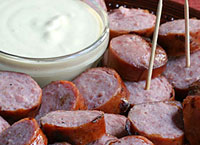 Sausages with Mustard Cream
is a surprisingly delicious
appetizer recipe
featuring grilled smoked sausages served with a creamy mustard dipping sauce made with whipping cream, Dijon mustard, prepared horseradish, white wine vinegar, egg yolks and a hint of sugar. If you don't have time to fire up the outdoor grill, you can also broil these sausages in your oven. Any type of smoked sausage or kielbasa will work beautifully with this recipe.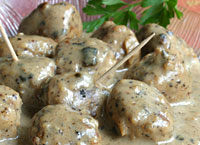 Who can resist hot, flavorful bite-size meatballs served with a tasty savory sauce? These
Scandinavian Meatballs
are amazingly easy to prepare, and the sauce is even easier! The meatballs are made with a combination of ground beef and ground pork, along with sautèed onions, soft bread crumbs, egg, milk and seasoning. The sauce is made at the last minute simply by adding some milk to the skillet and stirring!
Spicy Apple-Glazed Meatballs
are seasoned with plenty of garlic and a hint of cayenne pepper, and are nicely held together with a couple slices of bread that have soaked in an egg and milk mixture. Once browned, a fabulous sauce flavored with apple juice, soy sauce, brown sugar and some ground ginger is quickly whipped up on the stove then combined with the meatballs, giving them lively flavor and a beautiful glisten.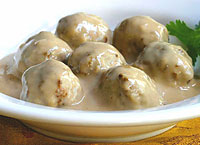 Swedish Meatballs
can be served as appetizers or as a main course with rice, pasta or even potatoes. To make these meatballs as appetizers, simply form them into bite-size balls and serve with toothpicks on the side if desired. Guests can dip each ball into the creamy and delicious sauce that gives these meatballs their famous flavor. This recipe is straightforward and easy, and is always a big hit with all ages.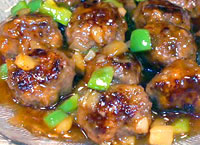 Sweet and Sour Meatballs
are wonderful served as an appetizer for any event, or as a main course over rice. These
Hawaiian meatballs
are made with a mixture of lean ground beef, rolled oats, diced water chestnuts, egg, milk and spices and are browned in the skillet in just minutes. A sweet and tart Polynesian Sauce is then poured over these flavorful meatballs, giving them the final touch of that recognizable Polynesian flavor.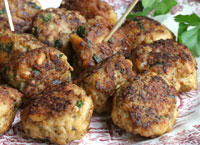 This
turkey meatball recipe
is delicious served as a main course with pasta and some
Marinara
poured over the top, but can also be made as a healthy appetizer for parties simply by reducing their size. These meatballs can be made with ground turkey, ground turkey breast, ground beef or ground pork, if desired. Thanksgiving holiday turkey leftovers can also be used to make these meatballs with a little help from a food processor!