Meat Appetizers
Meat appetizers come in all shapes and sizes and can be made with any They can be made using ground meats,
thinly sliced deli meat or prepared meats, such as smoky link sausages, pepperoni, salami, etc. Perhaps one of the most popular form of meat appetizers is
meatballs
, because they can be using all sorts of ingredients as well as a large variety of sauces. Meat appetizers can feature simple small bite sizes of meat, such as cocktail weenies or chicken (breaded or not) served with dipping sauces. Some other examples of meat appetizers are pastries or wontons stuffed with meat or a mixture of meat and other ingredients, such as
Mini Calzones
,
Cheese and Sausage Croissant Bites
and
Cheese and Sausage Wonton Flowers
. Meat appetizers are especially great served at events where no dinner will be served; orl if dinner will be served, will be served quite late, leaving the guests hungry.
Meat Appetizer Recipes ▼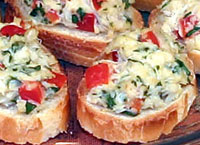 Crab Crostini
is a tasty and colorful appetizer that will add a touch of elegance to any party, holiday or social event. This
crab appetizer
recipe features mini slices of bread topped with a light and delicious flaky crab mixture made with red bell pepper, chives, parsley, Dijon, Parmesan cheese, mayonnaise, hot pepper sauce and some freshly squeezed lime juice. This recipe couldn't be easier - just slice, top and broil!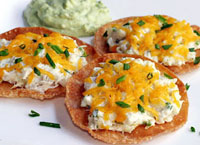 Crispy Crab Wontons with Avocado Creme
feature crispy fried wontons topped with a light and tangy crab salad topped with melted cheddar cheese. This crab wonton recipe also features an Avocado Creme that is served on the side as garnish, made with avocado, lemon juice and a small amount heavy cream. These
Crispy Crab Wontons
can be served for lunch, brunch or dinner as a light main course, or as appetizers when made small.
Crispy Meatballs Marinara
is an Italian meatball recipe that features ground beef and bulk Italian sausage, seasoned with all the right stuff, then coated with Panko bread crumbs and fried until golden and crispy. A flavorful marinara sauce made with onions, sliced garlic and seasonings is then drizzled over the top. Photo shows these
meatballs
formed into 2-inch meatballs, though meatballs can be smaller sizes.
This
Festive Nachos recipe
combines tender lean ground beef, salsa, black beans, avocado and tomato chunks, ripe olives and a hint of chili powder. You can serve this dish with
homemade tortilla chips
and/or warm corn or flour tortillas for filling. Photo shows
Festive Nachos
with served with sides of sour cream, pickled jalapenos and Creamy Guacamole. You can kick this
nachos recipe
up a notch with a few added ingredients.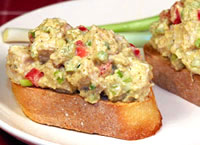 Hummus Chicken Salad
is wonderful on
crispy Baked Crostini
or soft mini slices of bread, and a wonderful twist to the traditional chicken salad. This
chicken salad recipe
is made with hummus rather than mayonnaise, giving it light and refreshing taste as well as healthful benefits. Diced celery, green onions and red bell pepper are also added into the mix, providing a fresh and tasty crunch!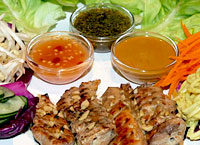 This healthy and delicious
Lettuce Wraps recipe
features Satay-marinated grilled chicken breast topped with chopped peanuts, served with sweet and sour cucumbers, bean carrots and Coconut Curry Noodles. Nutter lettuce leaves are served on the side and used for wrapping around these wonderful ingredients. Served with 3 dipping sauces: Sweet Red Chili with Garlic Sauce, Red Chili with Cilantro Sauce and Spicy Peanut Sauce.